Pakistan's role in meeting global demand for sustainable rice
Rice experts will share their vision on how Pakistan can contribute to meet the global demand of sustainable rice.
May 24, 2022
Time: 5:00 pm - 6:30 pm ICT, GMT+7
Duration: 1,5 hours
Venue: Zoom (online)
How to meet the growing global demand for sustainable rice?
Did you know that over 3.5 billion people around the world rely on rice as a staple part of their diet, and the global demand by 2050 is expected to increase by 25%?
However, it is estimated that the impact of climate change alone is expected to lead to a reduction of up to 15% in the global rice supply by 2050.
If the world's 144 million rice smallholders keep producing under conventional production methods, we would require an additional land area equivalent to the size of Chile and an additional 300 MT of CO2 emissions to meet the global demand for rice. .
The size of the rice market along with its high environmental footprint make change in the rice sector vital in order to transition to a sustainable food system.
How are we going to feed the world sustainably?
According to a recent internal SRP survey, demand for sustainable rice is expected to double by 2025. During this webinar, rice experts will share their vision on how to approach the sector's main challenges, and how stakeholders together could work towards a more healthy, inclusive and sustainable rice supply chain that meets the growing market needs.
The webinar is open to public.
Rewatch the webinar on SRP's YouTube Channel: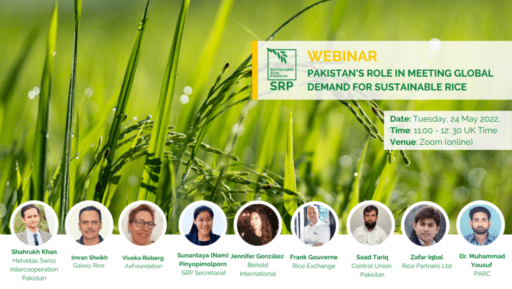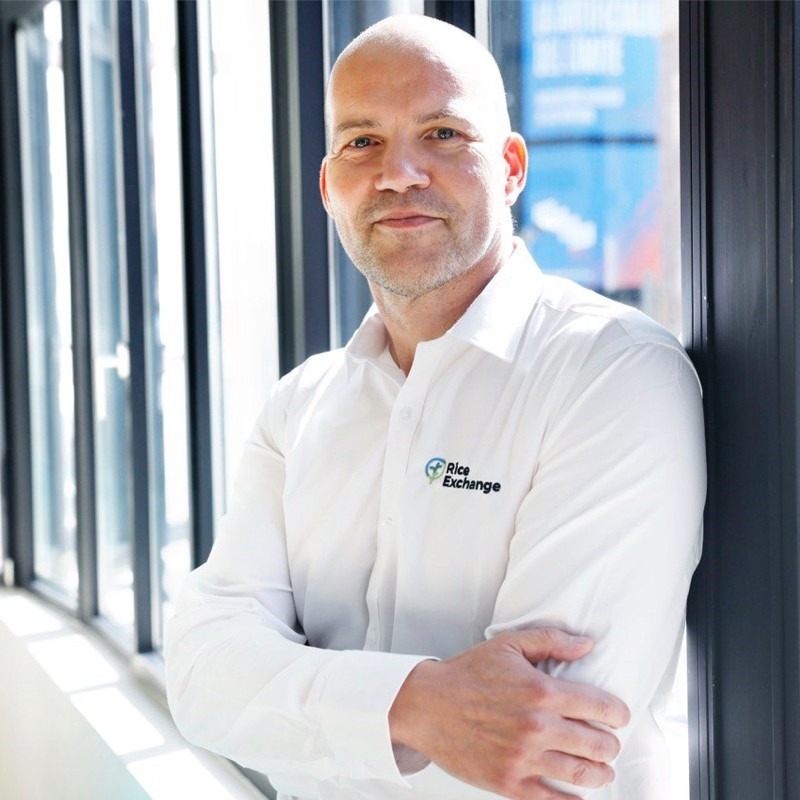 Speaker
Frank Gouverne
COO, Rice Exchange
Frank Gouverne is the COO of the digital marketplace Rice Exchange. He has over 30 years experience in the global rice trade. Rice Exchange is a digital blockchain-enabled rice trading platform bringing transparency, liquidity, security and improved access to the global rice market. The inherent consensus-driven trust and safety mechanisms on the blockchain platform, combined with independent validation of all parties and 100% visibility of all steps through an immutable audit trail, deliver an unprecedented level of transparency to the rice market. All stakeholders – buyers, sellers, banks, insurers, shippers, warehousing and inspection services – benefit.
Speaker
Shahrukh Khan
National Coordinator, Helvetas Swiss Intercooperation Pakistan
Shahrukh Khan is the National Coordinator at Helvetas Swiss Intercooperation Pakistan. His primary focus at Helvetas is policy advocacy for the Water productivity in Rice and Cotton Value Chain Programs. Shahrukh is a development practitioner with more than 8 years of experience in program design, management, monitoring, evaluation, learning and donor relations. Shahrukh is passionate about sustainable agriculture transformation through digitalization and technology adoption. He is also passionate about climate change mitigation and is working on some of the leading initiatives in Pakistan to control greenhouse gas emissions, excessive water use.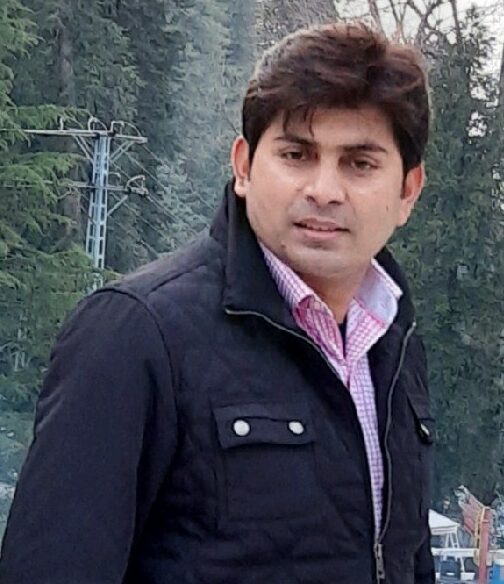 Speaker
Zafar Iqbal Bhatti
Head of Sustainability, Rice Partners Pvt Ltd (RPL)
Zafar Iqbal is leading the contract farming and sustainable sourcing agenda of Rice Partners Pvt Ltd (RPL) for key client Mars Food Europe. He is the founding member who has initiated the SRP program in Pakistan in collaboration with Mars Food and trained more than 32,000 farmers. Being part of the national procurement team, he is co-piloting sustainable sourcing/procurement strategies together with global partners focusing on rice. He is also working on water stewardship, living income, wages and decent working conditions. He manages partnerships (Mars Food, Bayer, IRRI, OXFAM, WWF, and donors like RVO, Swiss Solidarity and SDC) and drives sector change.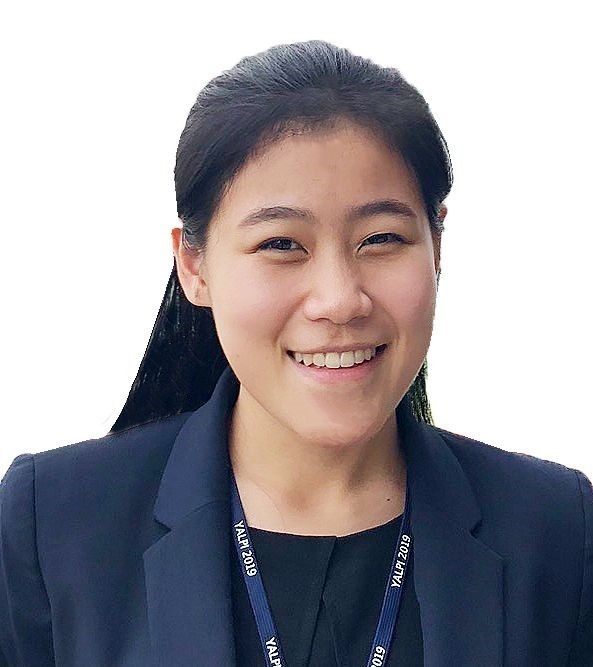 Speaker
Sunantaya (Nam) Pinyopimolporn
Capacity Development Officer, SRP Secretariat
Nam is the Capacity Development Officer at the Sustainable Rice Platform (SRP) Secretariat. Her role is to manage the global SRP Training Program and facilitate in-country development of SRP National Chapters. She has supported SRP and its members for a year in upscaling impact and adoption of sustainable climate-smart best practices in the rice sector. In addition, to mainstreaming the sustainable rice concept, she has worked on strengthening internal systems and establishing processes, especially of her working areas, to enable SRP to effectively operate and growingly support members.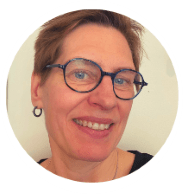 Speaker
Viveka Risberg
Program Director for Sustainable Production and Consumption, AxFoundation
Viveka Risberg is the Program Director for Sustainable Production and Consumption at the non-for-profit organization AxFoundation in Stockholm, Sweden. Her expertise in sustainable supply chain management is based on operative international experience within the private as well as the non-governmental sector. Since 2015 Viveka has been engaged in the rice program GRAISEA in Pakistan, involving 2500 small scale rice farmers and workers.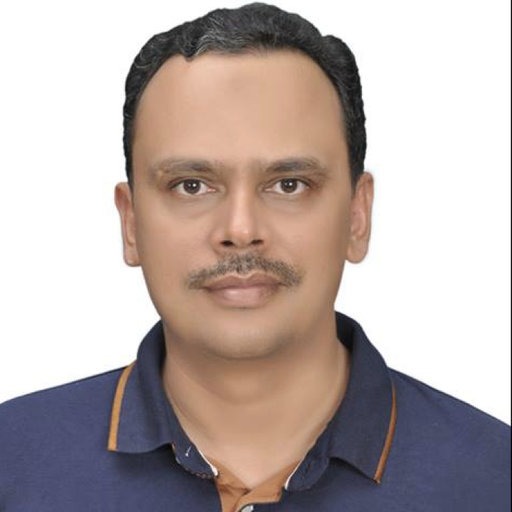 Speaker
Imran Sheikh
WAPRO-II Project Manager, Galaxy Rice
Imran Sheikh has served as Lead Agronomist in the WAPRO-I project supported by SDC, Helvetas Swiss Intercooperation and MARS Food. He is now leading WAPRO-II as Project Manager at Galaxy Rice with the support of SDC, elvetas Swiss Intercooperation and Westmill Foods UK. He is successfully working with farmers to improve crop productivity and farm profitability by ensuring food safety from farm to fork. He is also heading a seed and agrochemical company as Agri Business Head; National Coordinator of Pakistan Basmati Heritage Foundation, and pioneer authorized master trainer and auditor in Pakistan for global rice standard of SRP.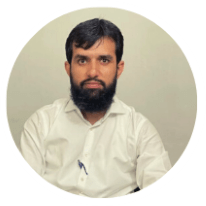 Speaker
Saad Tariq
International Inspector, Control Union
Saad Tariq has been working at Control Union since 2014 as International Inspector for organic agriculture programs and senior Verifier for sustainable agriculture programs. He is conducting verification visits for sustainable agriculture programs such as BCI, SRP, and PEPSICO. He has completed 800 audit days for Organic agricultural programs and is conducting SRP verification visits in Pakistan since 2020. He has vast experience on farmers and worker interviews.
Speaker
Dr. Muhammad Yousuf
Pakistan Agricultural Research Council
Dr. Muhammad Yousuf has been working as National Coordinator and Project Director of the PSDP Project "Project Enhancement of Rice" in Pakistan. Working in the PARC research system since 2001, he is currently coordinating research and development activities of rice crop with international, federal and provincial research and education institutions, development partners, civil society, farmers and other stakeholders; identifies research gaps at national level and promotes steps for cultivation of rice crop to increase production/productivity.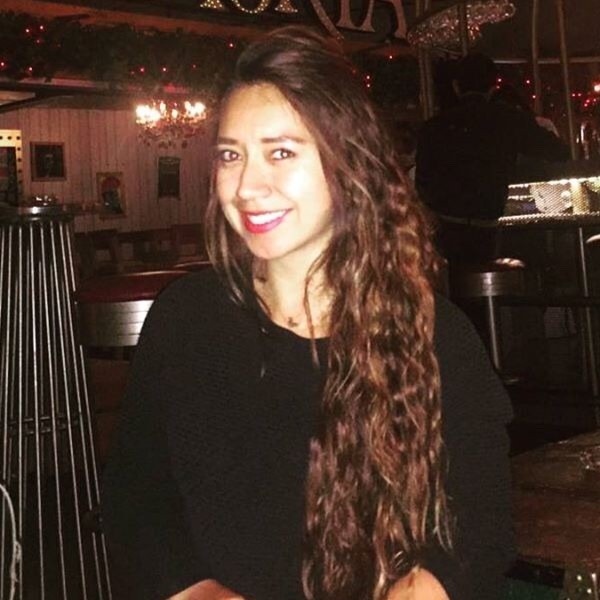 Moderator
Jennifer Gonzalez
Behold International
Jennifer Gonzalez is a marketing, communication and sustainability consultant. She has been working in the management and consulting space with private and non-governmental organizations that generate and capture extraordinary social and economic value. She also has extensive experience on social development projects, impact assessment, international sales and international trade shows. Over the last few years, Jennifer has been working as a marketing consultant for multiple organizations in Columbia, North America, Europe and Southeast Asia. Jennifer also co-founded Staterra, a company builder for sustainable businesses in Columbia.