Back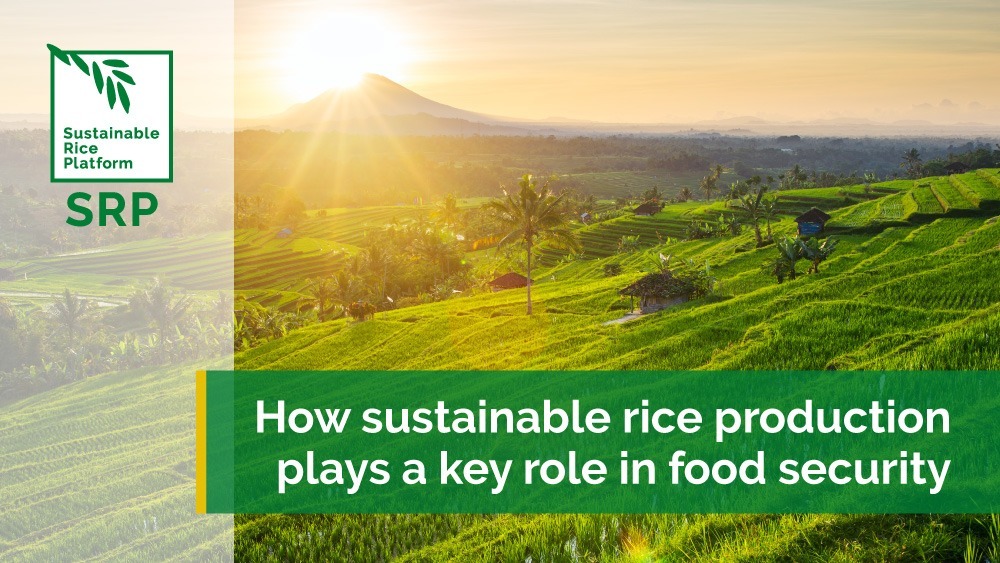 How sustainable rice production plays a key role in food security
Since our establishment 10 years ago, SRP has worked to transform the global rice sector toward a more sustainable model across the value chain. Our goals are to improve the livelihoods of smallholder farmers, reduce the environmental footprint of rice production, and offer an assured supply of sustainable rice to ensure food security for billions of people amid an ever-increasing global demand.
Rice production today
Rice is one of the world's largest staple food sources, feeding more than 3.5 billion people around the world on a daily basis. Global rice consumption is also projected to increase by 25% over the next 25 years, due global population growth of approximately 1% per year. However, conventional rice cultivation and production can take a significant toll on the environment. Rice cultivation is the second-largest contributor to agricultural methane emissions, a leading driver of habitat loss in wetlands and forests, and accounts for one-third of the world's freshwater use.
Impact on farmers
While rice production is a major contributor to climate change, it is also highly vulnerable to the negative impacts of climate change. Rice provides livelihoods for nearly one billion people, but those livelihoods lack resilience. The majority of rice producers are smallholder farmers, who are especially vulnerable to the impacts of economic instability, climate change and health crises.
Achieving sustainability
As climate change poses a serious threat to global food security, improving the sustainability of rice production is of vital importance. SRP helps achieve this by providing solutions like the SRP Standard for Sustainable Rice Cultivation and the SRP Performance Indicators. Rice farmers who switch to sustainable rice cultivation earn up to 10-20% higher net incomes, reduce water usage by up to 20%, and cut methane emissions by up to 50%.
The  SRP Assurance Scheme is based on the SRP Standard and provides a system for supply chain actors to procure SRP-Verified rice and make sustainability claims for rice produced in compliance with the SRP Standard and Performance Indicators. It also provides guidance and rules for the use of SRP trademarks (Claims, Logos or Label) upon achieving assurance. The scheme offers three levels of assurance to support the different needs of producers.
Rice producers that receive Assurance Level 3 verification are permitted to make on-pack claims or use the on-pack SRP-Verified Label. On-pack claims and the SRP-Verified Label allow consumers to easily identify and choose SRP-Verified rice on supermarket shelves, empowering them to choose a product that supports farmers and reduces the impacts of rice production on the environment.
The SRP Assurance Scheme lets rice producers maintain transparent standards for sustainability, while also providing consumers with verifiable information about the rice products they buy. Through this initiative, farmers at every scale can follow a clear path forward for sustainable rice production and contribute to greater food security for all.
Our efforts have already had a major impact, but there is far more work to be done. If your organization would like to help feed the world sustainably for years to come, consider joining the Sustainable Rice Platform today.