Back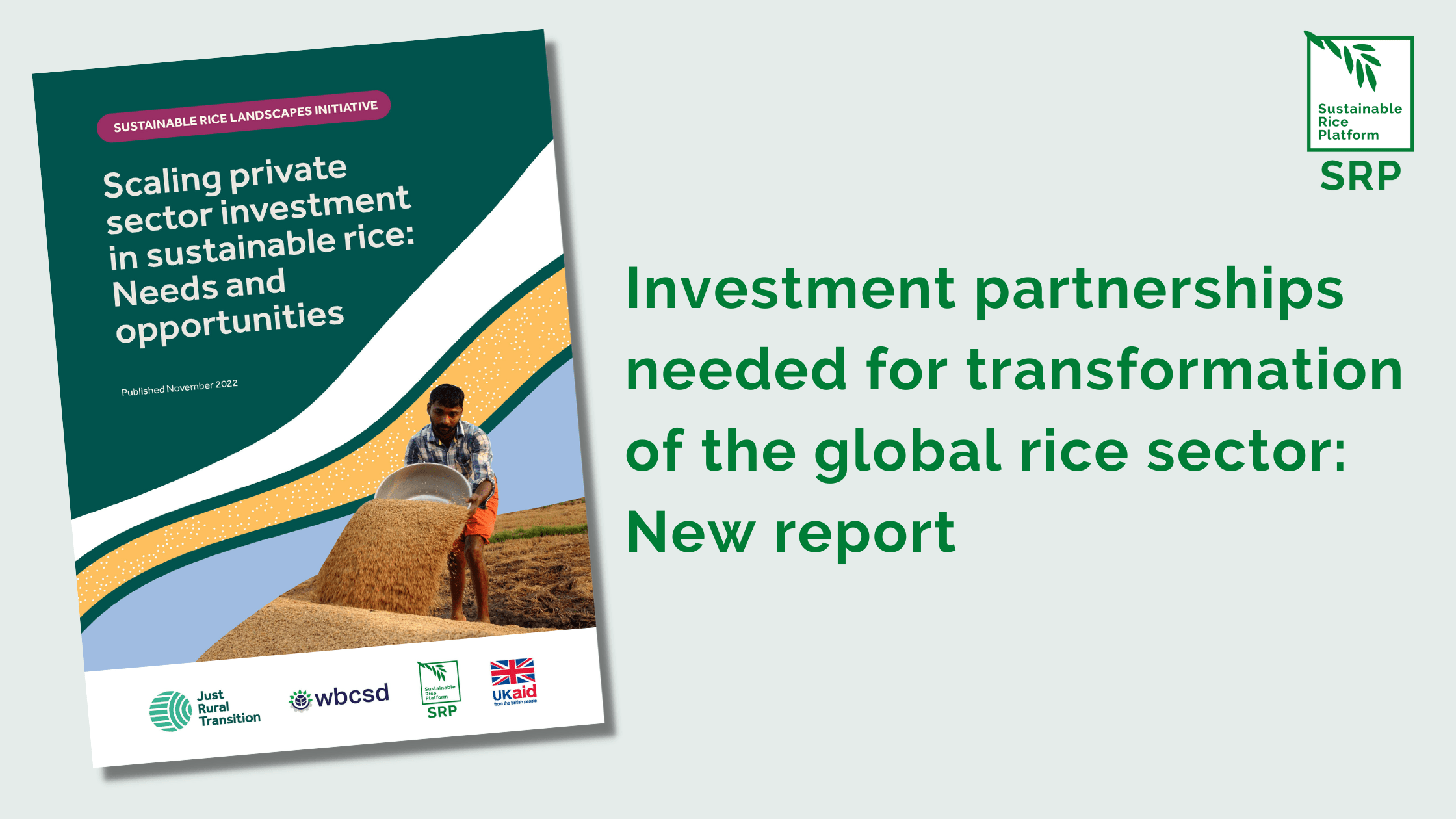 Investment partnerships needed for transformation of the global rice sector: New report
Sharm El Sheikh, 11 November 2022 — Targeted investment partnerships are vital to achieving sustainable and equitable rice production, concludes a new report launched today at COP27: "Scaling private sector investment in sustainable rice: Needs and opportunities."
Representing the latest research by the Sustainable Rice Landscape Initiative (SRLI), an international consortium mobilizing finance for sustainable rice cultivation for 260 million smallholder farmers across Asia, the report lays out a roadmap to helping rice farmers adopt sustainable practices. New finance tools based on the findings are already being developed.
The report, which was co-produced by the World Business Council for Sustainable Development (WBCSD), the Sustainable Rice Platform (SRP) and the Just Rural Transition (JRT), with technical input from the Food and Agriculture Organization of the United Nations (FAO), was launched at a Good Food Finance Network (GFFN) press conference at COP27 on 11 November. It finds that finance models that can successfully scale up investment in sustainable rice will require strong partnerships involving a range of actors, public and private, with different appetites for risk and return. To ensure that farmers are not left behind in the shift to regenerative food systems, a mix of funding sources and instruments will be required, the most catalytic being long-term patient capital and de-risking using concessionary finance and technical assistance. Together, these efforts will transform rice production – which currently emits more greenhouse gases than the aviation industry – into a sustainable agrifood system.
Two new finance tools are already being developed based on the report's findings. A blended finance facility is currently being designed with funds from the Global Environment Facility (GEF) and will be piloted in Bangladesh, Cambodia and Vietnam. The facility aims to catalyse public and private funds for climate-resilient rice farms, value chains and livelihoods. Partners are working to design the facility's integrated financing mechanism, develop local and national stakeholder capacities and establish impact monitoring of the facility.
The second finance tool is an accelerator for nature-based rice solutions. Due to be launched in 2023, this platform will leverage the rapidly expanding carbon markets to increase private-sector funding for sustainable rice production. It will engage businesses, address challenges to funding and provide companies interested in investing with the necessary technical support and guidance needed to mobilize high-quality credit generation.
Dr Wyn Ellis, SRP Executive Director, said: "With rice attracting increasing attention in the global climate change debate, this report offers a timely and authoritative review of the opportunities and challenges of financing a transition to sustainable rice production. Innovative finance mechanisms will be essential to catalyse a sector-wide transition to sustainable rice landscapes, focusing on the funding needs of farmers, businesses and governments. The Sustainable Rice Platform and Sustainable Rice Landscapes Initiative look forward to engaging with our partners to unlock these opportunities to transform the global rice sector."
Lead author Tanja Havemann (CEO of Clarmondial and Director of the Food Securities Fund), said, "We see opportunities for rice landscapes to contribute to food security while reducing emissions and building natural capital. Committed efforts by value chain partners, governments, technical experts, and investors can unlock capital to finance the required interventions. We look forward to continuing work with partners to achieve this."
Victoria Crawford, Investment Partnerships Lead at the Just Rural Transition, said: "Rice production is crucial for global food security and nutrition, and provides livelihoods for nearly a billion people. However, the way rice is typically produced has a huge environmental impact, including emitting 10% of global methane and consuming 40% of global irrigation water. This jeopardizes the long-term viability of rice farming and the communities that depend on it.
"Farmers need access to finance, technical assistance and services in order to adopt tried and tested approaches to improving rice sustainability, such as better water management or improved rice varieties. By improving the flow of capital into the rice sector, these new finance tools will make real difference for farmers – whether that's by lowering interest rates for new equipment, extending access to weather advisories and early warning systems or enhancing post-harvest infrastructure to reduce food loss."
Tony Siantonas, Director, Scaling Positive Agriculture, WBCSD, said: "The widespread adoption of proven and investment-ready sustainable rice production techniques will transform rice value chains. This will be critical to meeting global climate, nature, inequality and nutrition goals. However, rice landscapes pose particular challenges for investors, including very small farm-level funding requirements, limited demand for sustainable rice and the need to provide comprehensive support to farmers, such as technical advice, market linkages and financial inclusion."
The report is available for download here.
---
About the Sustainable Rice Platform
The Sustainable Rice Platform (SRP) is a global multi‐stakeholder alliance of over 100 institutional members across the stakeholder spectrum. Established as an independent not-for-profit member association, in 2015 SRP developed the world's first and only voluntary sustainable rice standard dedicated to the needs of small farmers. Today, SRP works through the SRLI consortium to transform the global rice sector by improving smallholder livelihoods, reducing the social, environmental and climate footprint of rice production; and by offering the global rice market an assured supply of sustainably produced rice. SRP-Verified rice is now available in over 10 countries in Europe.
For further information, please contact:
Roong Tepkaew, SRP Communications and Membership Manager