Back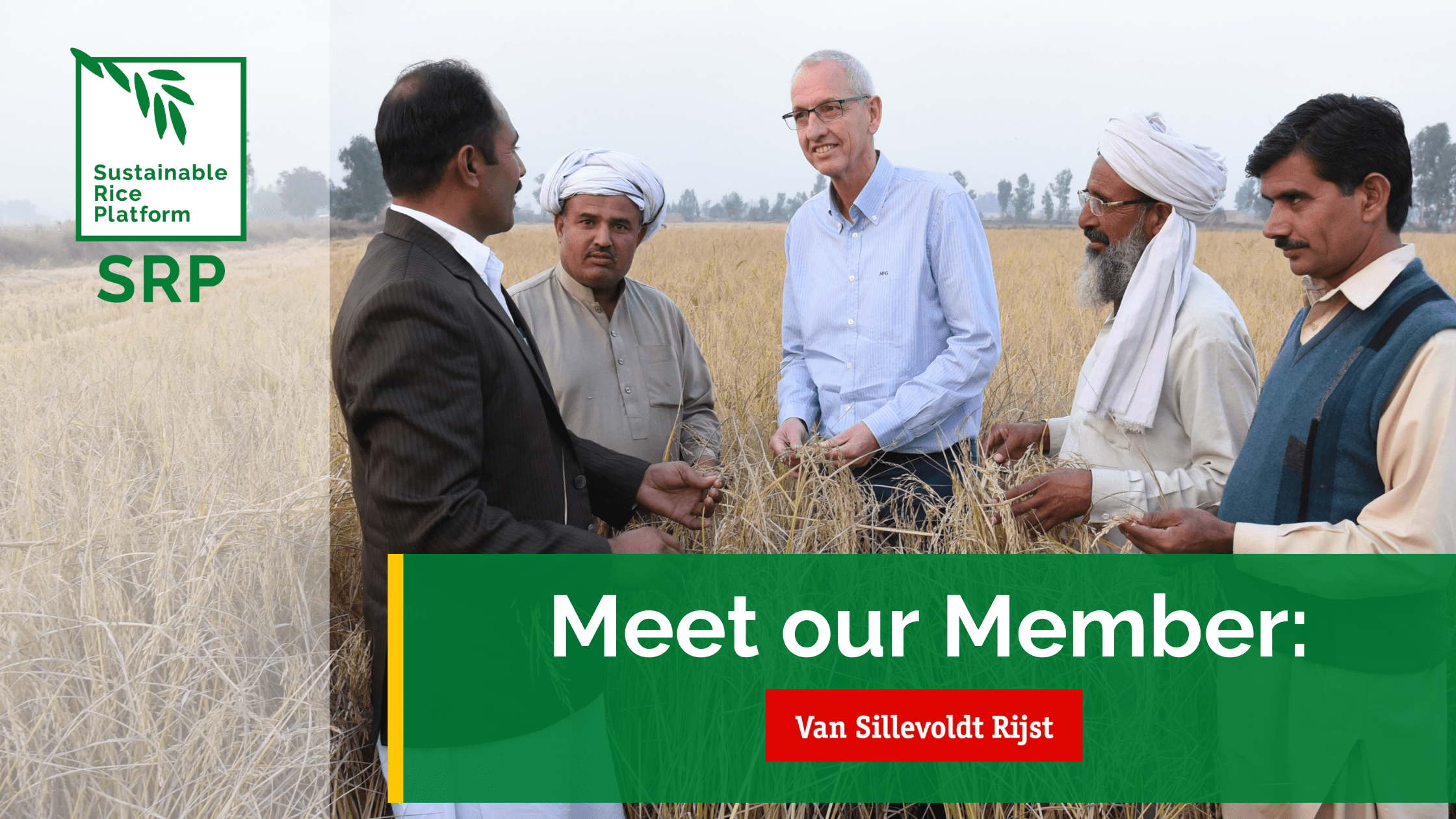 Meet our member: Van Sillevoldt Rijst
Working alongside our members to feed the world. Sustainably.
SRP, together with our members and partners, is dedicated to transforming the global rice sector throughout the entire value chain for a healthier, more inclusive and sustainable future. In this interview series we ask SRP members and partners why they joined SRP, the main trends and developments they see in the industry, as well as their vision for the sector.
We kick off our series by asking Hans Castelijn, Director of long-standing member Van Sillevoldt Rijst, the following questions.
Company: Van Sillevoldt Rijst
Contact: Hans Castelijn, Director
Country: The Netherlands
Member since: 2015
1. Tell us about your company.
Van Sillevoldt Rijst (VSR) has been in the rice business for almost two centuries. Today, we are part of the Euricom Group with a modern processing and packaging plant in the Netherlands, and we are a leader in private labels and natural rice tailored for the food industry and retail trade. Thanks to our unique history and competences we are able to select the best rice, always working closely with suppliers and buying directly from source as much as possible. We truly believe that consumers want to see where their food originates from, how it was grown and processed, and then brought to their supermarket
2. When and why did you decide to join SRP?
VSR joined in 2015, and we became a pioneering member of SRP because we believe that collaboration and transparency throughout the rice value chain is essential for a sustainable supply.
3. What trends and developments do you see in the industry?
The biggest challenges are compliance with regulations, food safety standards and a degree of lack of transparency – but by joining SRP with its multi-stakeholder platform we are able to work alongside actors across the entire sector to escalate good business ethics and transparency throughout the value chain. I also see increasing upcoming regulation and legislation concerning carbon footprinting, so personally believe that the carbon footprint of the rice industry should become more strongly emphasized in the SRP Standard. It's an indicator that can be quantified and measured so we can better understand, and reduce, our footprint at all stages of the value chain.
4. Tell us about the business activities of VSR and your participation in the SRP Assurance Scheme.
Basically, we source SRP-Verified rice, and will continue to do so. There was no real issue concerning compliance with the SRP CoC Standard, so we hope more and more retailers will join us and start selling sustainable rice in their stores!
5. How do you envision the rice sector in the future?
Rice is a staple of many cultures, and in the DNA of our company where we always emphasize our ethos, which is: "The people behind rice". In my utopia, consumers will be better empowered to fully understand and make conscious choices about sustainable rice. Furthermore, I believe in a universal contact between farmer and consumer. That means a universal community of farmers and consumers who share the mutual responsibility for a better world.
6. Any recommendations for companies and industry actors considering joining SRP?
SRP is a platform that guides the rice value chain towards a better world, sustainably. Its SRP-Verified Label is already creating differentiation in the rice retail industry and could develop into a consolidated standard like BRC or IFS that's recognized by regulators. SRP also opens the possibility of implementing sustainability in a company's operational systems and management by full integration of requirements and standards such as the ARBO law or HACCP, for example. More emphasis on carbon footprinting in the SRP Standard later would have a big impact. All in all, SRP gives us a platform to create the better world and universal contact between farmer and consumer that I mentioned before.
7. Your quote, or vision for 2025?
"The people behind rice."
---
If you are an SRP member and would like to be part of our "Meet our Members" series, please contact Roong Tepkaew at roong.tepkaew@sustainablerice.org. We share these interviews on our website, in our newsletter and on our social media channels.