Back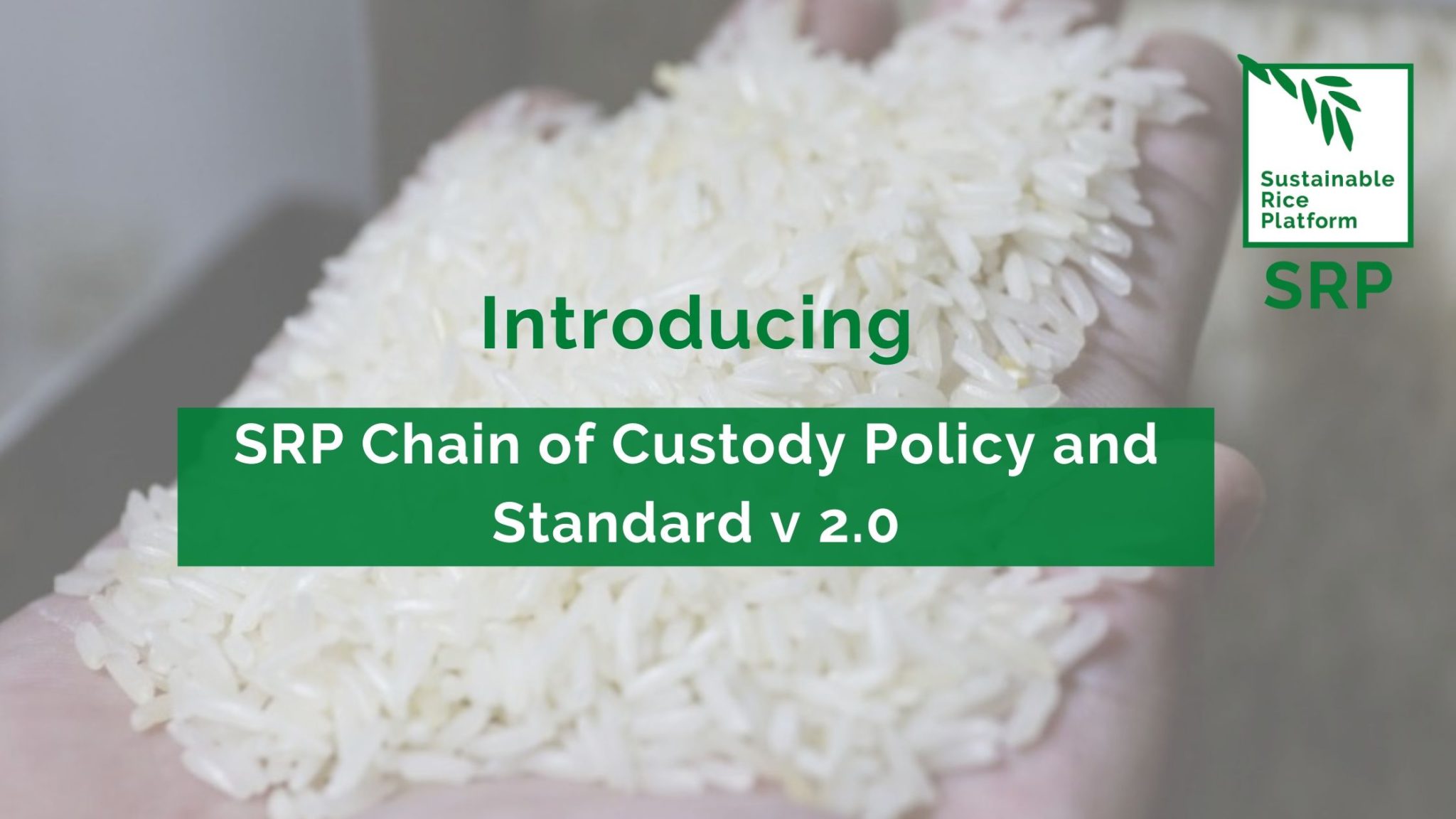 Introducing the SRP Chain of Custody Policy and Standard v 2.0
The SRP Assurance Scheme recognizes three different types of Chain of Custody models: Identity Preservation, Segregation and Mass Balance. Chain of Custody verification is required for on‐product use of SRP claims and use of the on‐pack SRP‐Verified Label.
Following an open consultation, the SRP Chain of Custody (CoC) Standard v 1.0 was launched in October 2020 as the core standard that specifies requirements for all Chain of Custody-verified and applicant organizations with respect to sourcing, processing, labelling and sale of rice-based products as SRP-Verified. Compliance enables market actors to make and transfer verifiable sustainability claims for rice produced using proven, climate‐smart, sustainable best practices.
The SRP CoC Standard applies to any Participating Operator purchasing, handling and/or trading SRP-Verified rice. It describes the requirements to ensure traceability of SRP-Verified rice by implementing a Chain of Custody system under one of three models: Identity Preservation, Segregation or Mass Balance.
We are pleased to announce the release of the SRP Chain of Custody Policy and Standard v 2.0, as endorsed by the SRP Board on 31 January 2022.
Download the SRP Chain of Custody Policy and Standard v 2.0
Key changes in Version 2.0
Replaced the term 'Certification Body' with 'Verification Body' throughout the document to conform with the SRP Verification System.
Clarified ambiguous language where users frequently observed difficulty in interpretation of meaning.
Added and changed new compliance levels for many requirements to guide and encourage step- wise improvement in the journey toward sustainability.
Added the term 'Transaction Certificate' to Glossary to conform with additional requirements.
Added requirements to Verification Body roles and requirements for SRP CoC.
Added SRP CoC Standard requirements for CoC multi-site Participant Operator (Annex 2 No. 8).
Introduced Transaction Certificate requirements to Annex 4.
Click on the link below for a full documentation of changes:
Download Overview of Changes from CoC Standard v 1.0 to v 2.0
Transition arrangements
The SRP Chain of Custody Policy and Standard v 1.0 remains valid until 30 June 2022 under the interim arrangement set out in Information Note No 2 (June 2021). CoC verification audits can be performed against either v. 1.0 or v. 2.0 without additional audit until 30 June 2022; Version 2.0 becomes mandatory on 1 July 2022.
Information Note No. 3 (April 2022) provides notification of additional requirements to the SRP Assurance Scheme v 1.3, covering the following areas:
Approval of SRP Sublicense and Registration Agreement v 2.0
Approval of SRP Chain of Custody Policy and Standard v 2.0
Transition Arrangements
Chain of Custody Fee Table 2022
Use of Transaction Certificates under the SRP Chain of Custody Policy & Standard v 2.0.
Download Information Note No 3
Further information:
If you have questions or require further information, please feel free to reach out to us at info@sustainablerice.org.