Back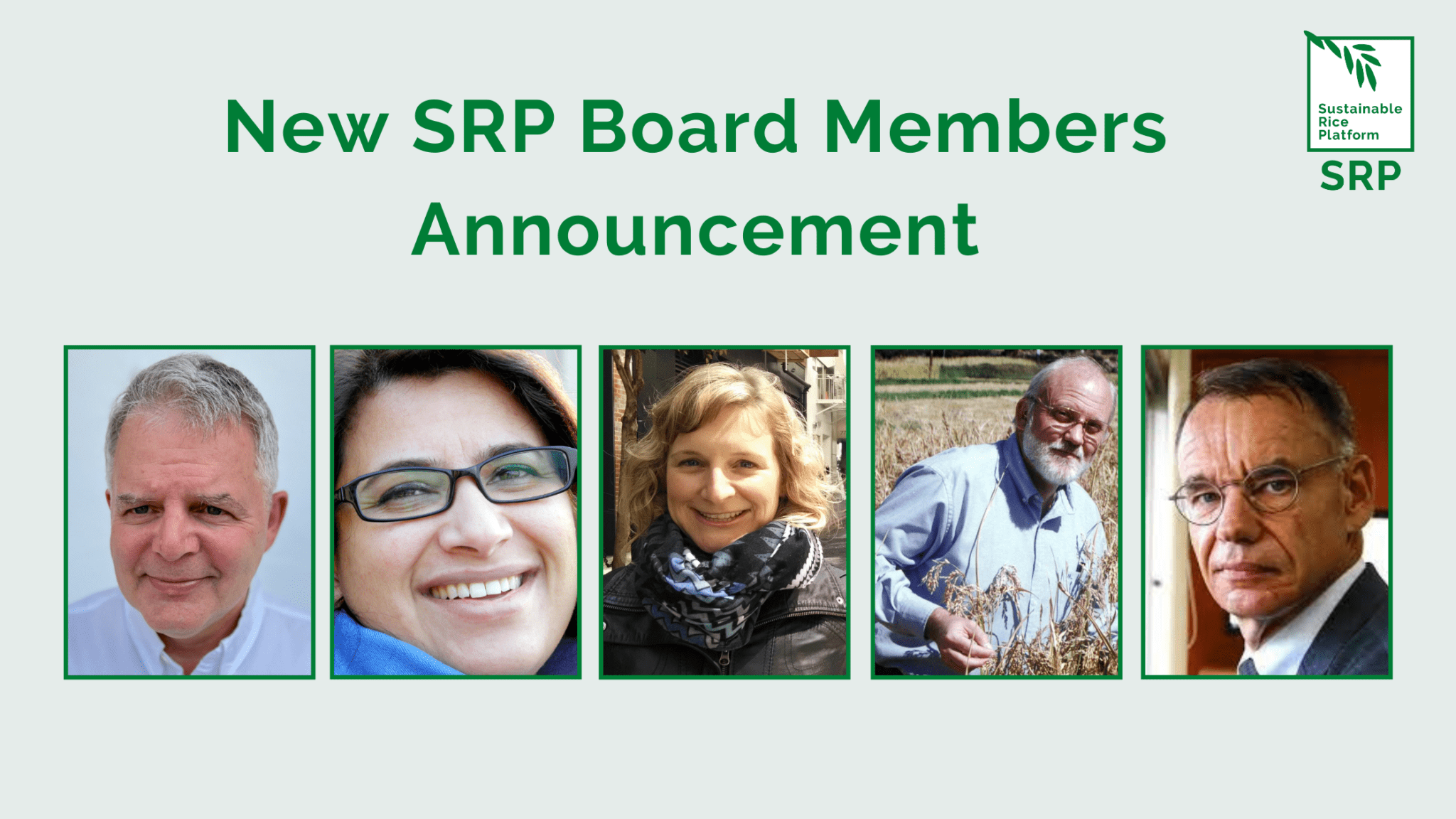 New SRP Board Members Announcement
The Sustainable Rice Platform (SRP) is pleased to announce the following four new Board Members that joined SRP's Board on 28 March 2022. Each will serve on the Board for a three-year term effective 28 March 2022 through 2025.  Please join us in congratulating and welcoming them.
Dr. Arjumand Nizami
HELVETAS Swiss Intercooperation – At Large
Dr. Arjumand Nizami has a consistent career path on inclusive and multi-partner development with a strong sense of gender and social equity. Her thematic interests include integrated rural development, resilience building, climate change, value chains and businesses preferably with improved water productivity, technological innovation in agriculture / NRM based economies. She has led and managed multi-disciplinary teams and diverse programmes in these fields. Apart from Pakistan where she is based, during her jobs she had the opportunity to offer expertise also in Afghanistan, Nepal and Ethiopia with respect to project planning, implementation and evaluations. She is confident in coordinating stakeholders including private sector, international trade standards, research, high level government officials and policy makers for constructive dialogue to discuss complex topics. With her strong writing skills, she is able to produce studies, synthesis documents, policy documents & briefs, position papers, roadmaps and articles.

Dr. Arjumand Nizami shares: "The SRP vision and mission are very close to my heart. As board member I strive for the forum to contribute to better guide the organization in utilizing its resources in harnessing potential of existing SRP members and knowledge base of aspiring members so that their ideas improve our ability to further infuse sustainability, efficiency and ecological responsibility. My insights from my experience knowledge and skill may cultivate a sense of comradeship and consensus among members that shall be translated into the decisions and actions which will procure more support of the governments."
Dr. Margaret Williams
Winrock International – At Large
Dr. Margaret Williams is currently the Technical Director for the American Carbon Registry, an enterprise of Winrock International. Margaret holds a bachelor's degree in Environmental Science and a doctoral degree in Atmospheric Chemistry. She completed postdoctoral work at the University of California Irvine in the department of Earth System Science and at NASA Ames Research Center. While at UC Irvine, she held the Comer Fellowship for the Study of Abrupt Climate Change. She has over 15 years of experience in GHG accounting and crediting schemes. She led the effort to develop the SRP National Interpretation Guideline for the United States.

Dr. Margaret Williams says: "I look forward to working as an SRP Board member to grow SRP's reach and impact in the coming years."
Bruno Fischer
(Treasurer)
Foodtech Solutions Thailand – Private Sector Supply Chain
In his main job, Bruno Fischer is responsible for the strategic and technical development of Foodtech Solutions (FTS), a family-owned group of small companies in Thailand, India and Germany that focusses on the qualitative development of organic, fairtrade crops and SRP rice. FTS runs an organic rice mill in Amnatcharoen, and concentrates on the agricultural development of two regional farmer groups, one conventional group under the SRP Standard and another SRP, organic and fairtrade cooperative.

Bruno Fischer tells us: "My willingness to engage in SRP is based in the conviction, that SRP is an excellent opportunity to bring structural and agricultural improvements on a much broader scale than is possible with my personal preference of organic plus fairtrade, so SRP will – in sum – result in more positive environmental and social outcome and I am exciting to contribute to a well structured and energetic development of SRP."
Dr. Robert Zeigler
Better Grain – Private Sector Supply Chain
Dr. Robert Zeigler has dedicated his scientific career to developing sustainable management practices for rice pests and pathogens based on the genetics of host plant resistance and pest population biology. Increasing management responsibilities allowed him to build multidisciplinary teams that focused on creating integrated crop management practices suitable for rice farmers, first in Latin America, then Asia. He actively encouraged and supported the creation of SRP during his tenure as Director General of the International Rice Research Institute. He also served as Chairman of the Board of the Association of International Agricultural Research Centers (AIARC).

Dr. Robert Zeigler says: "The potentially competing short –, medium – term objectives of the many SRP stakeholders make for a very challenging institutional environment. While all stakeholders share the longer-term vision, for SRP to make a difference at a global level, competing short – term interests will have to be balanced via nimble and engaged governance. As the needed science and technology are largely in place for sustainably produced rice, I am honored to help provide the needed governance and oversight to help realize the vision of a food – secure world based on sustainably produced rice."
We are also proud to welcome Dr. Bas Bouman as IRRI's representative to the Board. Bas replaces Dr. Ranjitha Puskur, who has stepped down to focus on her roles as IRRI's Country Representative for India, as well as the organization's lead on gender. We extend our sincere thanks to Dr. Puskur for her contributions to the Board and to the organization; Dr. Puskur remains committed to supporting SRP in developing our gender and diversity program.
Dr. Bas Bouman
(Vice-Chair)
International Rice Research Institute (IRRI) – Permanent Member
Dr. Bas Bouman is an agricultural engineer and agro-ecologist with more than 35 years of experience working in Asia, Latin America, and Europe. He is an internationally-recognized expert on sustainable agricultural development and food security, with specific expertise on water management and rice. He has published extensively in leading agricultural journals and was an editorial board member of a number of journals in crop and agricultural sciences. He authored over 130 peer-reviewed journal papers, wrote/edited 5 books, and authored 140 other papers and proceedings. His H-index is 34 using Web of Science and 58 using Google Scholar. He held/holds positions on various international advisory and governance bodies (e.g. CGIAR Consortium Board, Sustainable Rice Platform, Comprehensive assessment of Water and Food) and is member of the prestigious Royal Holland Society of Sciences and Humanities. As of April 2022, Dr. Bas Bouman is the leader of the 'Sustainable Impact in Rice–based Cropping Systems' platform at IRRI.