Back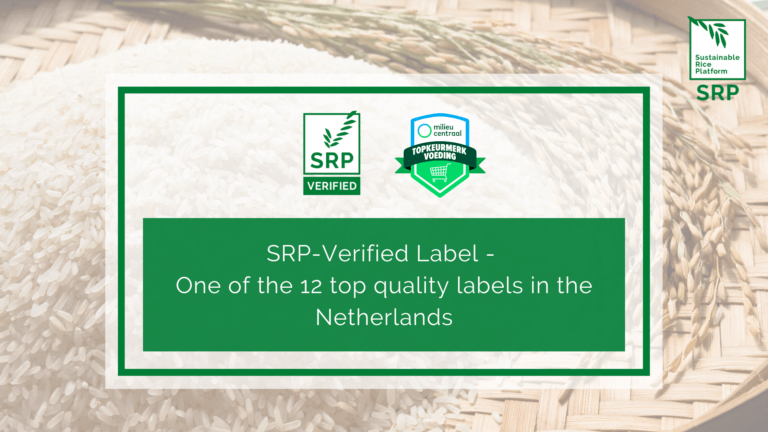 SRP-Verified Label is one of the 12 top quality labels in the Netherlands
We are proud to announce that the Sustainable Rice Platform's on-pack SRP-Verified Label has been selected as one of the 12 top quality sustainability labels in the Netherlands for 2022. The list was published together with the latest Keurmerkenwijzer (Certification Label Guide) by Milieu Centraal, a Dutch independent information organization aiming to help consumers to shop more sustainably.
The 12 top quality labels each represent a product group in which they set the highest standards in the fields of environment, animal welfare and people and work.
Here is the full list of Milieu Centraal's 12 top labels:
ASC for farmed fish
Beter Leven Keurmerk (2 and 3 stars) for dairy, eggs and meat
Demeter for biodynamic products
EKO for organic products
EU organic for organic products
Fairtrade for tropical products
MSC for wild fish
On The Way To PlanetProof for dairy, eggs, fruit and vegetables
Rainforest Alliance (including UTZ) for tropical products
Roundtable On Sustainable Palm Oil (RSPO) for palm oil
Sustainable Rice Platform (SRP) for rice (SRP-Verified)
Climate Neutral Certified (specifically for climate impact of food)
What is the Milieu Centraal Keurmerkenwijzer (Certification Label Guide)?
The Keurmerkenwijzer is a label guide that provides information on about 300 food labels and logos related to the environment, animal welfare and/or aspects related to people and work. It assesses solely on information that is publicly available online, including how strict the requirements are and considers monitoring of compliance of these labels and logos.
With regard to labels on food, Milieu Centraal assesses a range of criteria including sanction policies, and whether the standard's requirements are verifiable and guaranteed throughout the entire value chain. Labels are also assessed on their transparency (information that is easy to find and understand).
For each product group, all food labels are measured against the same standard with regard to reliability, transparency and ambition against sustainability criteria (e.g. environment, animal welfare and people & work).
For more information on the rating process visit Keurmerkenwijzer's website.
The Ministry of Agriculture, Nature and Food Quality is the granter of this research.
Minister Henk Staghouwer:
"For me it is important that consumers can easily make right sustainable and healthy choices. So, congratulations to the top quality labels that help with this by being ambitious and transparent on aspects such as animal welfare and environment. For consumers the information is useful when they are shopping, companies can use the information for the choices they make as a producer, buyer or seller of food. This contributes to a sustainable food system."
Why is it Important for SRP?
In 2015 SRP launched the world's first and only voluntary standard for Sustainable Rice Cultivation, together with a set of Performance Indicators to enable monitoring of progress and impact, and enable benchmarking within the industry. The launch of the SRP Assurance Scheme and SRP-Verified Label in 2020 represented a milestone towards SRP's goal to transform global rice value chains . 
SRP offers the world's first and only rice sustainability management system that links buyers in global markets to rice producers who manage their land and production in a sustainable manner. SRP enables value chain actors to de-risk supply chains and make measurable contributions to their sustainability commitments.
Only two years after launch, the on-pack SRP-Verified Label has been recognized as one of the 12 top quality labels in the Netherlands. This is an important step towards SRP's vision to "Feed the world. Sustainably". The Netherlands is one of the biggest importers of rice in Europe, and with SRP-Verified rice now available on supermarket shelves in 6 EU members states, as well as in UK and Scandinavia, we project further demand growth for sustainable rice across OECD countries as well as in producing countries.