Back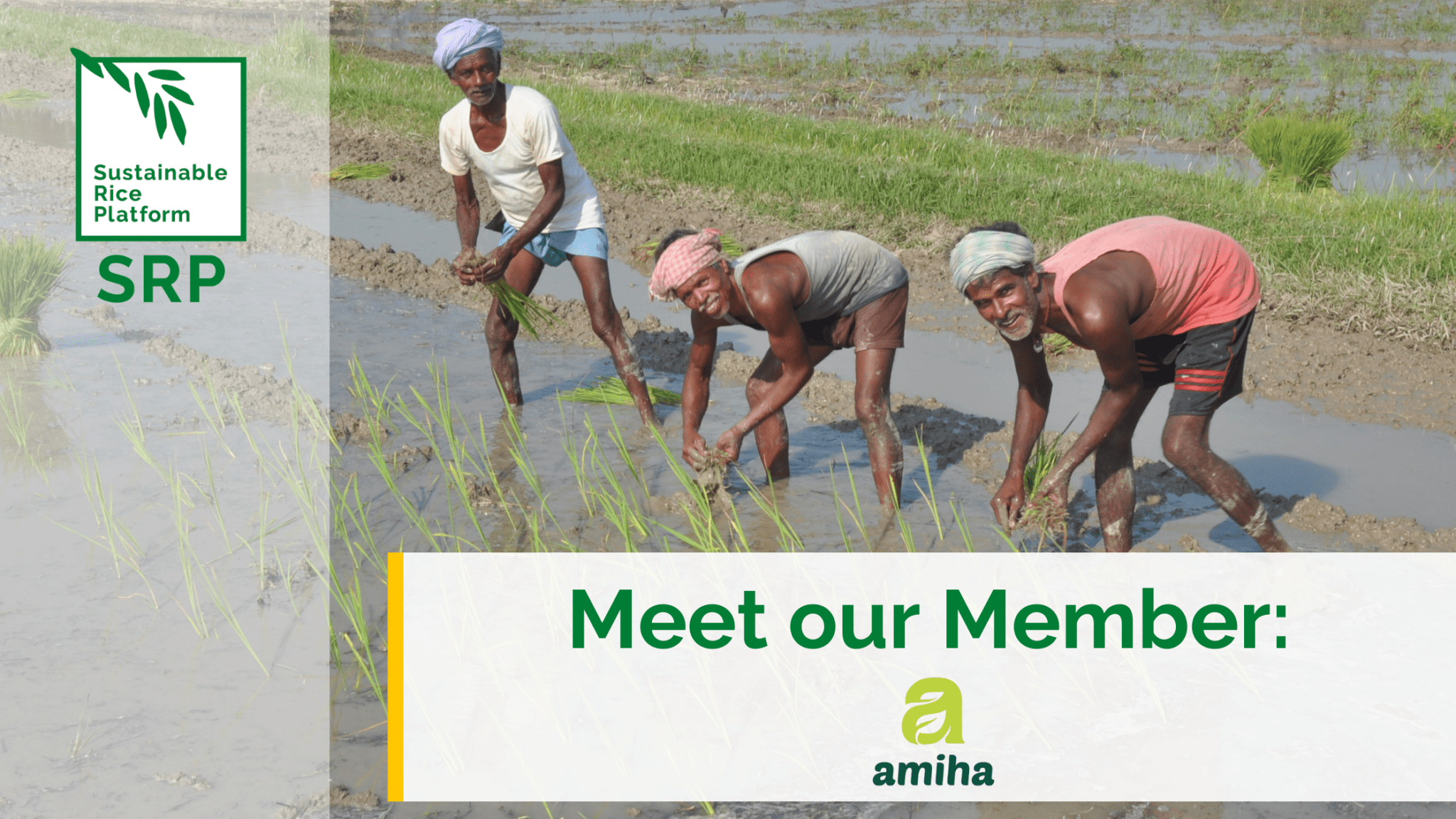 Meet our member: Amiha Agro Pvt. Ltd.
Working alongside our members to feed the world. Sustainably.
SRP, together with our members and partners, is dedicated to transforming the global rice sector throughout the entire value chain for a healthier, more inclusive and sustainable future. In this interview series we ask SRP members and partners why they joined SRP, the main trends and developments they see in the industry, as well as their vision for the sector.
This time we spoke with Hetal Shah, Director Operations & Innovations at Amiha Agro Pvt. Ltd..
Company: Amiha Agro Pvt. Ltd.
Contact: Hetal Shah, Director Operations & Innovations
Country: India
Member since: 2022
1. Tell us about your company, including when and why you decided to join SRP.
Amiha is one of the most established agricultural organizations in India where we have been a leading facilitator for sustainable rice, cotton, turmeric and wheat since 1997. Our work is not restricted to supply chains and markets but covers every aspect; we have success stories demonstrating the trust we have built up and our credibility. As a certified specialist, our "Soil-to-Sale" business approach features up-to-date interpretation while retaining inherent natural characteristics.
For example, with over 25 years' experience in backward and forward integration for sustainable cotton we follow the "Fashion-to-Farm" model, that is from production to consumer. We have initiated a responsible, traceable and transparent chain of custody with internationally-renowned certification bodies to cater for a business model which serves each and every stakeholder in the chain. Some of our prestigious clients are best-selling brands such as Inditex, and H&M.
It is SRP's mission to catalyze transformation of the global rice sector and buyers' ability to rely on the SRP Standard for sustainable rice that compelled us to join SRP. Working with us, farmers receive the benefits of the SRP Platform and consumers receive quality assurance.
2. Tell us about the specific reasons, trends and developments, opportunities or challenges you are trying to seize/solve by joining SRP (or how you solved them).
By joining SRP, we are able to fulfil our need for a comprehensive rice strategy and focus on developments and opportunities provided by:
The multi-stakeholder platform originally co‐convened by the International Rice Research Institute (IRRI), the United Nations Environment Programme (UNEP) and Deutsche Gesellschaft für Internationale Zusammenarbeit GmbH (GIZ).
Supply chains in the global rice sector.
Large flows of bulk trade.
Sustainable production standards and outreach mechanisms that contribute to an increase of the global supply of affordable rice, the improved livelihoods of rice producers and a reduction of the environmental impact of rice production.
The platform (SRP) which comprises of members from governments, governmental bodies, research institutes, NGOs and private sector participants.
We in turn develop skilled manpower under SRP guidelines using the Cascading Methodology, creating a human resource chain with the commitment to contribute and use the best practices.
3. Tell us about the process and activities involved with implementing the SRP tools/system in your organization and if it was straightforward or not.
SRP is easy and friendly to connect with, and implementation was straightforward. SRP has an advisory committee that gives valuable guidance on developing strategy and working groups that focus on implementation, and ensures its platform achieves its goals in compliance with UN rules and regulations.
We have in place:
Master Trainers – Certified and experienced professionals who go above and beyond to ensure a positive learning experience for each person at ground level, and who share their knowledge with the broader community.
In-House Capacity Development – We believe in improvement of an individual's or organization's capability to produce, perform or deploy and we train farmers to cultivate to the best of their capacity.
Cascading Methodology – The Master Trainers share their knowledge with groups of farmers and other people associated with the farming system, and those groups then go share their knowledge and ideas with new groups. This process continues, hence multiple people are being trained quickly using this methodology.
Furthermore, we are using "Baseline", "POP Farming" and "Bottom-to-Top Standard" techniques as part of our process.
4. Tell us about the future. What is your company's vision and ambition for sustainable development of the rice industry, and how could SRP be instrumental in achieving those?
At Amiha, we envision a community of farmers who are committed to establishing, nurturing and developing a sustainable, fair and transparent agriculture business model that not only improves the livelihoods of members of the community but also contributes toward economic growth and social development.
Our mission is to provide appropriate platforms for the farmers' community to carry out sustainable and traceable "Soil-to-Sale" agricultural trade through awareness creation, capacity building and hands-on support.
SRP offers a two-stream approach to transform the market globally by working with agencies to develop public policy and by supporting voluntary initiatives.
5. Any recommendations on why more companies and industry actors should join SRP, plus tips or advice on lessons learned?
SRP provides valuable guidance on strategy, ensures its platform achieves its goals in compliance with UN rules and regulations, and has working groups that focus on implementing plans. Hence, to implement a comprehensive approach for sustainable agriculture it's advisable for rice producers and rice traders to join SRP.
More advocacy is needed on a wider scale to expand the demand for sustainable products in the marketplace, and SRP is a good platform for achieving that.
6. What is your vision for 2025?
By 2025 we aim to achieve 50% of the SDG targets and to have also boosted our international trade of rice. We are also committed to restoring the purity of our environment through organic, regenerative and sustainable agriculture.
---
If you are an SRP member and would like to be part of our "Meet our Members" series, please contact Roong Tepkaew at roong.tepkaew@sustainablerice.org. We share these interviews on our website, in our newsletter and on our social media channels.