Back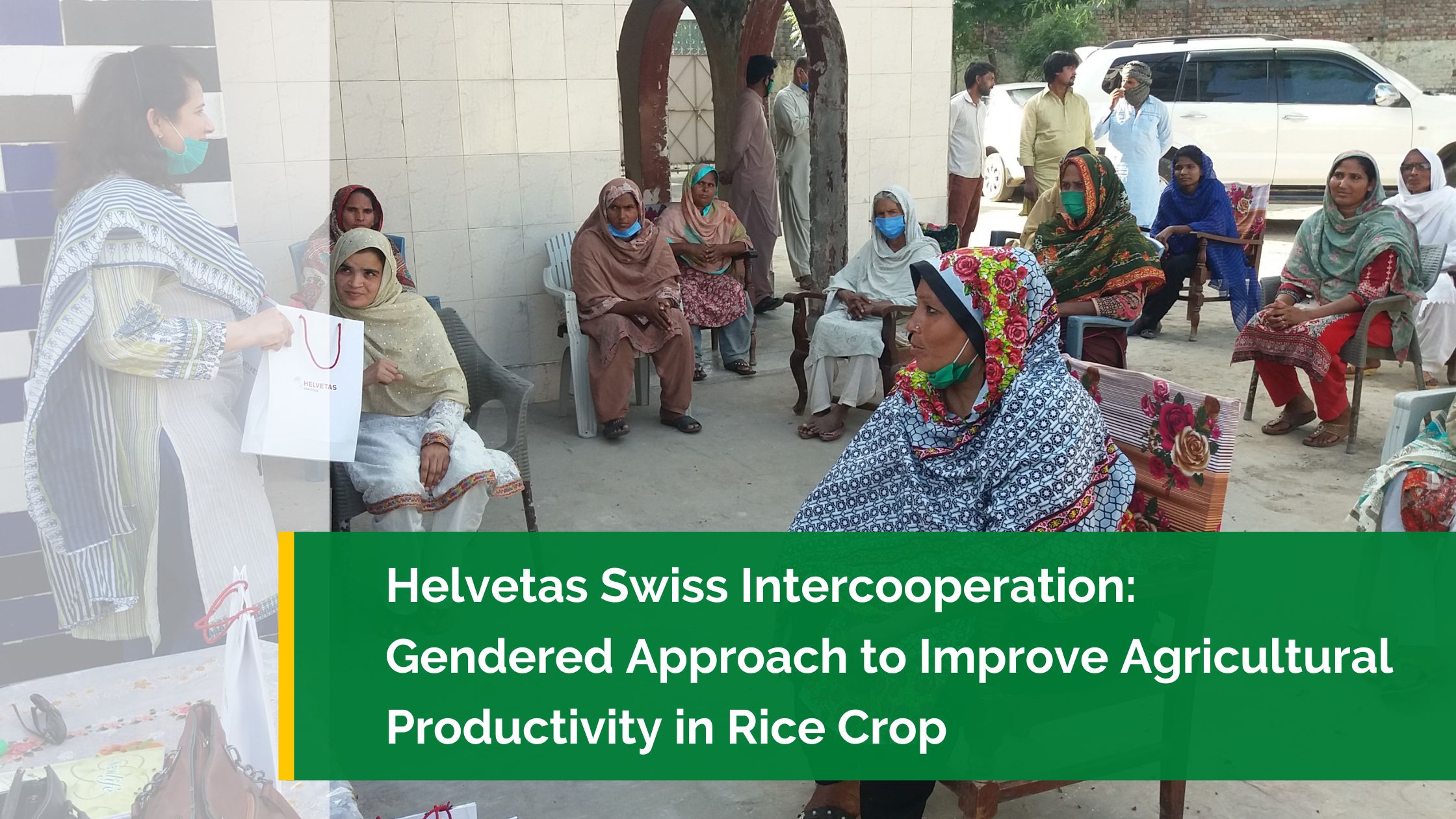 Helvetas Swiss Intercooperation: Gendered Approach to Improve Agricultural Productivity in Rice Crop
The authors of this article are Ms. Bushra Khanum (consultant for Helvetas and Head of Gender Empowerment and Social Advocacy Kasf Foundation) and Shahrukh Khan, National Coordinator WAPRO.
Developing countries such as Pakistan rely on agriculture as a key sector of the economy. A majority of Pakistan's population is directly associated with agriculture. The agriculture sector in Pakistan employs 36.92% of the total employable population, the statistic stood at 42.89% in 2012 (World Bank, 2019). The share of the population employed by the agriculture sector has thus seen a drop of 14.1 % over a period of seven years. Agriculture as a contributor to GDP has also lost its share to the services sector. From being the major contributor to the GDP its share has dropped to 22.69% in 2020 (World Bank, 2019). Similarly, female labor participation in the agriculture sector stood at 72.7% in 2015, decreasing to 67.2% in 2018 (Pakistan Bureau of Statistics, 2018). The decreasing trends in female labor force participation are not encouraging as Pakistan is already ranked at 133rd in the UNDPS's Gender Inequality Index and 153rd out of 156 countries in the World Economic Forum's Gender Gap Report for 2021.
Women are a very central part of agricultural ecosystems around the world. Women are intricately connected to most of the agricultural activities ranging from sowing, picking, livestock raising, agricultural crafts and foods etc. In addition, women are also responsible for household labor which is mostly unaccounted for as an economic contribution. In the same way, women are also the primary source through which agricultural knowledge is transferred from one generation to the other. It would not be an exaggeration to state that women keep together rural agricultural ecosystems and outshine men in many of the related agricultural activities. Yet the role of women in the agriculture sector more than often goes unrecognized. This is not so because of the value of their contributions but more so because of the systemic gendered biases of the society. These biases breed a culture where women are not appreciated as productive participants of the community although female roles in the agro economy are numerous and important. The situation is further worsened by the lack of policy support and forums where they can voice their concerns. Women thus are systematically kept out of the decision making process in rural communities without realizing the immense loss from their exclusion to the economy and society.
Another key fact that goes unnoticed particularly in context of Pakistan is that in comparison to men, women and girls are affected more severely by poverty, hunger and disease. Despite their immense contributions towards their families and businesses, the culture of sacrifice associated with the female renders them often get the smallest food portions especially in times when food is scarce. Thus an unbalanced diet coupled with lack of access to medical facilities worsens women's wellbeing. Additionally, society demands that women be solely responsible for the care of children and elderly further burdening her physically and psychologically. As mentioned before, most labor women perform goes unpaid and even on the labor market, women are paid meagre wages. Since unpaid work goes uncaptured in official statistics, the actual share of women's work in agricultural is insufficiently represented. Besides these injustices, women are often subjected to discrimination, abuse and violence.
During its course of longstanding assistance to Pakistan's agriculture sector. Helvetas committed to uplift the condition of rural women involved in agricultural activities. The Child Welfare in Commercial Agriculture Project targeted 3400 marginalized rural households in district Sheikhupura Punjab, to bring about real change in attitudes towards their role as economic contributors. The project is the first of its kind to involve private sector partners and push them under their corporate social responsibility commitments to mobilize community members in uplifting the plight of rural women. Rice Partners Limited, a renowned rice exporting company partnered with Helvetas to improve the conditions of the farming communities they work with. The project centered its approach on improving working conditions for transplanting women, ensuring they had access to healthcare, improving educational outcomes for their children and improving awareness regarding mother, child and labor rights. The project not only worked directly with the families but also the communities they resided in at large. Particularly influencers in the community that could bring about meaningful change and build community ownership of the initiatives. At the same time the project also works with landowners in order to change their attitudes and perceptions regarding the labor they employ.
Helvetas's approach to tackle women and children centric issues in Pakistan's rural communities is well aligned with international research on the subject. According to the Food and Agriculture Organization, ensuring the basic rights of women, especially in rural areas in Asia and Africa, is by far the most effective means of fighting hunger and poverty in a sustainable way (FAO,2011). The same applies to Pakistan's case. These rights range from the fundamental right to bodily integrity, to the freedom to choose life partners and if/when to have children. Other indispensable rights for women to flourish are right to education, to own property, to have access to water, livestock and machinery. Rural women face challenges in exercising these rights due to socio-cultural barriers and poor state intervention. It not only affects them directly but also their children. Such barriers constrain women to reach their full economic potential in many ways. For example, access to a personal bank account or loan can be a decisive factor in women's chances of improving their financial standing and taking steps to improve lives of their children and families. Thus providing women the opportunity to self-organize and take part in decision-making will benefit the whole community (Yasmeen & Razia, 2011).
The CWCA project in this sense has a simple yet impactful design. Its interventions have served as an impetus to change women and children's lives in rural communities in Pakistan. CWCA's interventions have been internationally proven to make a difference. According to a study conducted by OXFAM, 46 million children suffer from stunting in low-income countries. If access to primary education was provided to all women in these countries, 1.7 million fewer children would be saved from malnutrition and stunting (OXFAM, 2013). Similarly, reduced productive capacities of women due to gender-based inequalities in access to and control of productive and financial assets costs countries like Malawi USD 100 million, Tanzania USD 105 million and Uganda USD 67 million every year. UNESCO suggests that closing the gender gap could lift as many as 238,000 people out of poverty in Malawi, 119,000 people in Uganda, and 80,000 people in Tanzania each year (UNESCO, 2014). These numbers go unreported in Pakistan but the potential to uplift thousands of people from poverty through women empowerment is the same. CWCA's efforts in improving rural women's knowledge on health and nutrition is a small step but one in the right direction. Under the project rigorous capacity building sessions have been conducted to improve health and nutritional understanding of transplanting women. They have also been provided with dietary supplements to support their health in the arduous transplanting season.
Similarly, these women have been provided with resources to improve work place safety, these range from simple tents to save them from scorching heat in the fields and other personal protective equipment such as first aid kits. Female transplanters who are mostly derived of extension services were also enrolled in extension programs by CWCA's private sector partner RPL. The idea to improve their knowledge on agricultural techniques has far reaching consequences. In the 97 countries assessed by the FAO, female farmers only received 5% of all agricultural extension services. Worldwide, only 15% of those providing these services are women and just 10% of total aid provided for agriculture, forestry and fishing goes to women (FAO,2012). Providing extension services to these women will help improve their productive capacities and reduce the hours of labor they put into field work. CWCA's educational initiatives also reduce the mother's work burden both physically and psychologically by reducing the children's dependence on mother while they work in the fields and giving them hope of a better education. To achieve this CWCA has partnered with the Literacy and school education department and ensured enrollment of children in informal community schools which ultimately lead to formal educational streams. Under the initiative children have also been provided with school essentials such as bags, geometry boxes and uniforms to develop a sense of inclusiveness in these ignored and marginalized communities.
Removing gender biases and barriers from the agriculture sector has immense potential to make the sector more productive and competitive that too in a sustainable way. It is sad that this important segment of society is ignored at the expense of the economy and children's future. Inclusive policies for ignored segments of society are the need of the hour and so is private sector and community initiative. It will not only make the sector more competitive but will also help mitigate a looming food crisis. Better earning women will ultimately return the economic gains to society and economy in the form of better managed families and educated children. Women's health, nutrition and education is thus critical for the economic miracle Pakistan is looking for.
---
References
Begum, R., & Yasmeen, G. (2011). Contribution of Pakistani Women In Agriculture: Productivity and Constraints. Aup.edu.pk. Retrieved from https://www.aup.edu.pk/sj_pdf/CONTRIBUTION%20OF%20PAKISTANI%20WOMEN%20IN%20AGRICULTURE.PDF.
Food and Agriculture Organization. (2011). FAO Policy on Gender Equality: Attaining Food Security Goals in Agriculture and Rural Development. https://www.fao.org/3/i3205e/i3205e.pdf. Retrieved from https://www.fao.org/3/i3205e/i3205e.pdf.
OXFAM. (2013). Promises, Power, and Poverty: Corporate land deals and rural women in Africa. https://policy-practice.oxfam.org. Retrieved from https://policy-practice.oxfam.org/resources/promises-power-and-poverty-corporate-land-deals-and-rural-women-in-africa-279252/.
Punjab Bureau of Statistics. (2018). Labor Force Survey . http://bos.gop.pk/. Retrieved from http://bos.gop.pk/.
UNESCO. (2014). Teaching and learning: achieving quality for all. EFA global monitoring report. https://en.unesco.org. Retrieved from https://en.unesco.org/gem-report/report/2014/teaching-and-learning-achieving-quality-all. Word Bank. (2019). World Bank Development Indicators . https://data.worldbank.org/country/pakistan. Retrieved from https://data.worldbank.org/country/pakistan.
---
Helvetas Swiss Intercooperation participated in our "Meet our Members" Series. You can read their interview here.