Back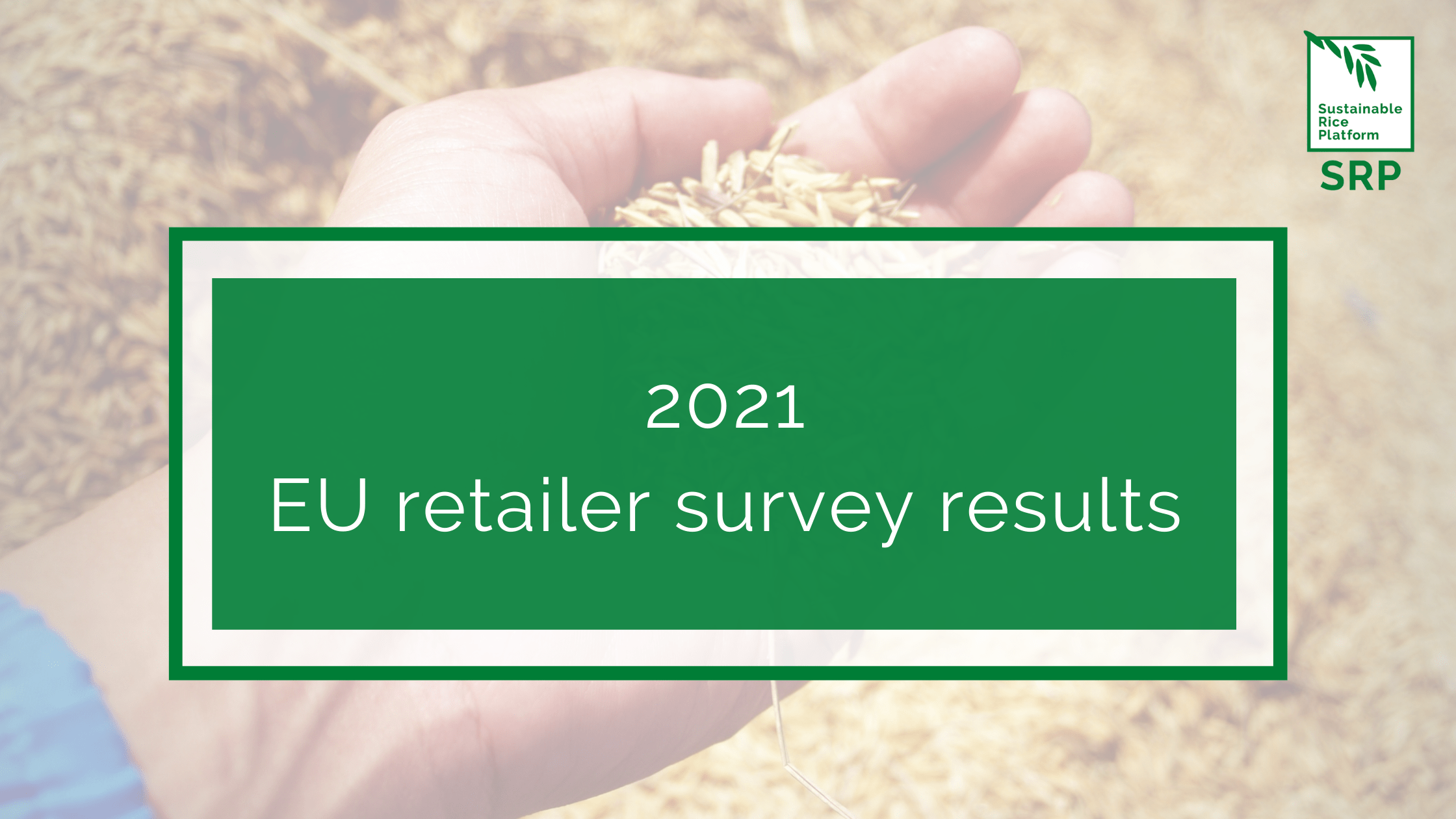 EU retailer survey points to emerging demand for sustainable rice
The Sustainable Rice Platform recently conducted a survey among a broad base of retailers, brands, millers, traders and other downstream rice actors and stakeholders in Europe. The findings show a significant interest and increase in sustainably produced rice in the near future:
Over 90% of respondents view sustainable sourcing as a priority;
One third of respondents expect 70% of their rice volumes to be sourced from verified sustainable sources by 2025 and more than 25% of respondents expect the rice volume to be sourced sustainably to be between 30-50% by 2025.
Based on these ambitions and expectations, the supply of sustainable rice needs to increase to be able to meet the predicted substantial growth in demand.
Further, the survey asked participants how much of their current rice volume they source sustainably. Out of all respondents:
More than half currently source less or up to 15% of their volume sustainably;
One out of five sources between 15% and 30% of their rice volumes sustainably;
Around 10% source between 30% and 50% of their volumes sustainably.
We also asked participants to identify the main obstacles in sustainable rice procurement. These were found to be insufficient supply, lack of sufficient consumer demand, and a higher price. Of minor concern to the respondents were aspects such as traceability and transparency, quality issues and knowledge of the markets.
Regarding the willingness of consumers to pay a premium, only 11% of respondents think that consumers are not willing to pay a premium which means that almost 90% of industry actors expect consumers to be willing to pay for verified sustainable rice.
The main motivation for sourcing sustainable rice is based on the rising interest of consumers in sustainability. Other factors relate to enhancing corporate reputation, company sustainability policies, commercial opportunities and business potential offered by sustainable food. Upcoming legislation was indicated not to be one of the main motivations, which indicates the voluntary interest of the industry to move towards sustainability.
In addition to improving the livelihoods of rice farmers, respondents were particularly appreciative of the environmental focus of SRP, specifically in better land use, protecting biodiversity, efficient water management, reducing greenhouse gas emissions and improving resilience to climate change.
As for the brand recognition and positioning of SRP there is still room for increasing the awareness and engagement of consumers, retailers and other market actors.
Almost 50% of respondents are members of the SRP, one third of respondents have heard of SRP and around 20% have never heard of SRP. The most popular service of SRP was found to be the verification and on-pack labelling. Transparency, followed by knowledge & research, partnership and linkages are also of high interest. Although this was not an academic research, the answers came from a broad representation of the market. It provided a clear and significant insight in the interest of the market as well as a confirmation of the need and expected increased demand for sustainable rice in the (near) future. It shows that sustainable rice is on the move, and it motivates SRP to work even harder to meet current and future demand for sustainable rice.
---
If you are interested to receive the full survey presentation or to hear the value that sustainably produced rice can add to your business, please contact: Roong Tepkaew at roong.tepkaew@sustainablerice.org.
Authors: Jop Blom & Nic Jooste, SRP retail & brands engagement Europe