Back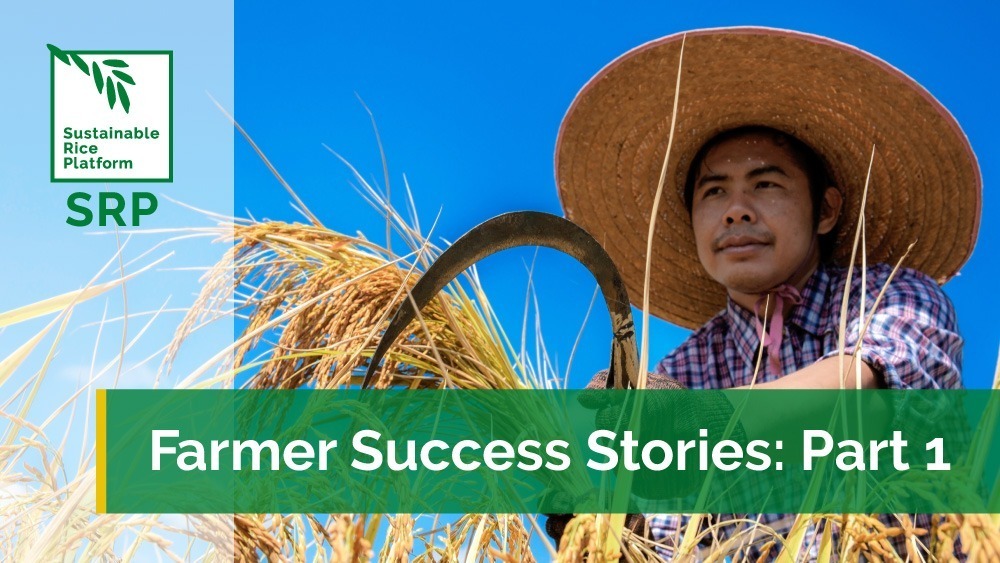 Farmer Success Stories: Part 1
Since 2011, the Sustainable Rice Platform (SRP) has been transforming the global rice sector by developing sustainable production standards, performance indicators, incentive mechanisms, and outreach initiatives to boost wide-scale adoption of sustainable best practices throughout rice value chains. Over the past decade, registered SRP projects have impacted over 400,000 farmers in Asia, Africa, Europe, and the Americas.
To celebrate 10 years of working towards feeding the world sustainably, we are presenting 10 farmer success stories from the past decade. The first set of inspiring stories is included below:
1.Mr. & Mrs. Ba Loi, Vietnam
Mr. & Mrs. Ba Loi have 30 years' experience as rice farmers. In August 2020, the couple participated in a training course on the SRP Standard, organized by Deutsche Gesellschaft für Internationale Zusammenarbeit (GIZ) and An Giang Agriculture Extension Center. They allocated two hectares of paddy field for implementing the SRP Standard in combination with reduced use of pesticides.
Mrs. Ba Loi enthusiastically shared her experiences and observations of the positive changes from adopting SRP practices. "Since learning about the benefits, I stopped burning straw and stubble and now plough my fields right after harvesting to allow the stubble to totally decompose. I no longer need to apply more fertilizer for the next planting season." Mr. & Mrs. Ba Loi have also encouraged their neighbors and other farmers who attended the SRP training to embrace these sustainable farming methods.
Source: BRIA II
2. Budi Harsanto, Indonesia
Budi Harsanto, a rice farmer in Boyolali, shared his experience as a participant in the Rikolto Rice Cluster for Sustainable Rice Sector Transformation Program. The project prompted him to adopt a number of new rice cultivation practices, the first of which was documenting planting cycles. "I already had a crop calendar, but I rarely updated it. Now I start using it to plan the next planting cycles," he said.
Budi also said that he'd initially struggled to change his old practices because he was used to doing things a certain way, such as not wearing protective clothing. Now, however, he does. "I received clear information about what pesticides can do to the human body and the environment, and that worries me a lot, so I now wear a safety mask and gloves when handling chemical products, especially when spraying pesticides," he said.
Source: Rikolto
3. Hisa Nuhu, Uganda
Hisa Nuhu shared how SRP's practices helped him reduce costs on his farm. "Before the program, I used to burn straw and use inorganic fertilizer to improve the fertility of the soil because I believed that these practices would help me achieve higher yields," he said. "My perspective has gradually changed after receiving guidance from SRP trainers. I decided to incorporate the techniques I learnt from SRP in my rice field. I was surprised to find out that I actually got the same yield, at a much lower cost."
Source: Rikolto
4. Husnain Safdar, Pakistan
Husnain Safdar had struggled with his conventional crop production practices for many years. He said that he had never "had a bumper crop in his lifetime," but with the help of SRP's soil sampling analysis and other innovative techniques, he was able to achieve his first bumper rice harvest. Today, Husnain Safdar educates his fellow farmers on the insights he gained working with SRP tools.
Source: Atlas Foods (Pvt) Ltd
5. Nguyen Thi Nhi, Vietnam
Nguyen Thi Nhi, attended a four-day training course on SRP organized by An Giang Agricultural Extension Center, within the framework of the Better Rice Initiative Asia II. The experience elevated her awareness and actions surrounding rice cultivation, "not only for myself but also for the other members in my family."
Since attending the course, she no longer burns rice straw but instead will sell or give it to other villagers who grow mushrooms. The training course also taught her the negative effects that pesticides have on the human body. "I remind my husband to wear a mask and gloves when he has to spray pesticides, and put the warning board around the sprayed area to avoid people from approaching the field within 2 days after spraying."
Source: BRIA II
Established in 2011, SRP's Registered Projects have already changed the lives of farmers in Uganda, Pakistan, Thailand and many other countries. Yet this is only the beginning for SRP, as we hope to achieve much more in the next 10 years and beyond. If your organization would like to join SRP, consider becoming a member today.