Back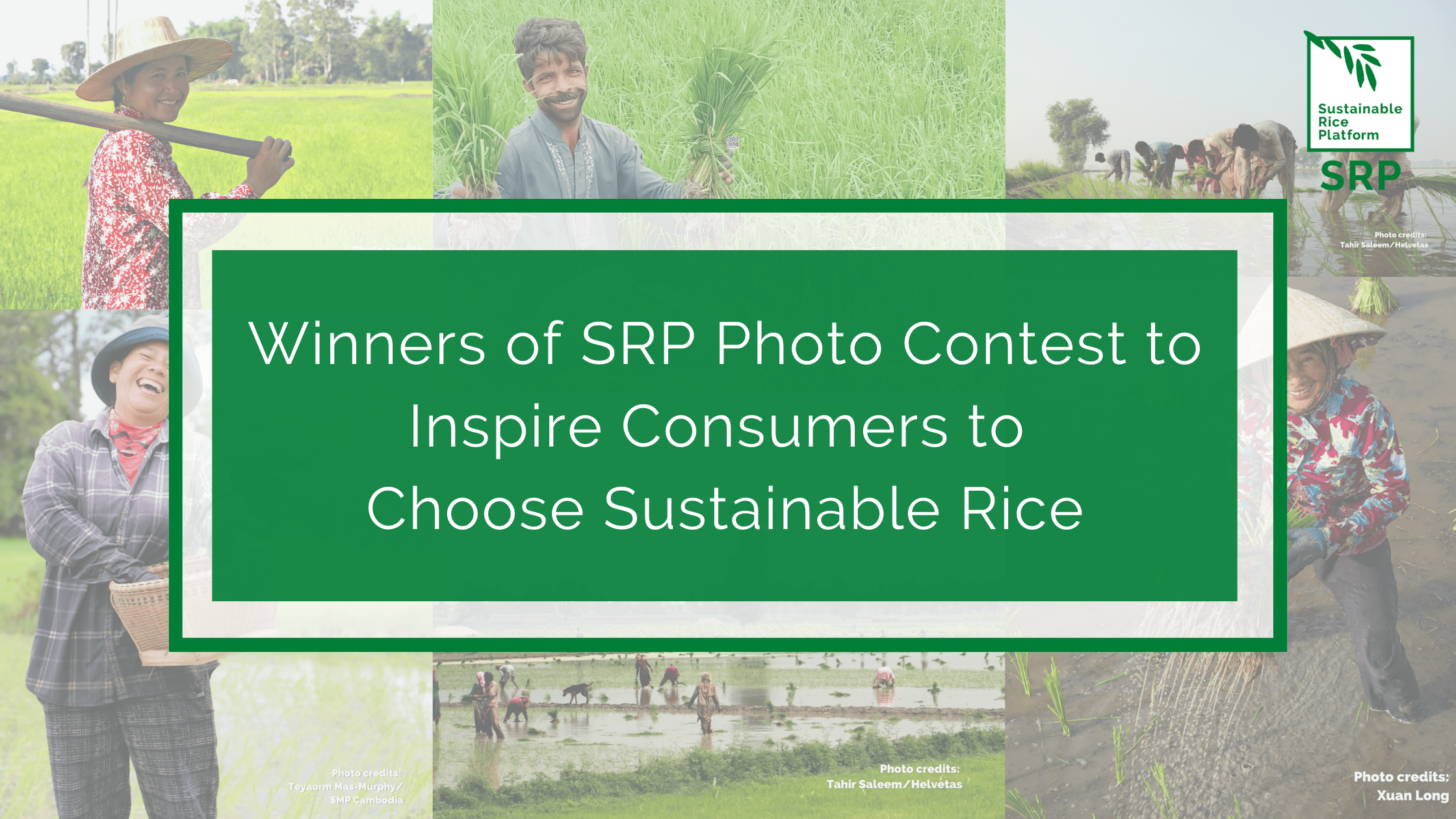 Winners of SRP Photo Contest to inspire consumers to choose sustainable rice
Amsterdam – Bangkok, 19 June 2023 — The Sustainable Rice Platform (SRP) launches its first Out-Of-Home (OOH) #ChooseSustainableRice consumer campaign in partnership with the out-of-home leader blowUP media in the Netherlands.
The first ever OOH #ChooseSustainableRice consumer campaign in cooperation with blowUP media
This summer we want to inspire consumers to #ChooseSustainableRice with a major OOH campaign supported by blowUP media in the Netherlands.
The campaign will showcase the winning photos of SRP's first-ever photo contest.
Introducing the winners of SRP's first-ever photo contest!
First of all, we would like to thank everyone who participated in our photo contest! We received a large number of beautiful and breathtaking pictures of rice fields and rice farmers. After much consideration, we are delighted to announce the six winning photos featuring rice farmers and landscapes.
Congratulations to the winners of SRP's first-ever photo contest!
Thanks to blowUP media, our generous campaign partner, these stunning photos will inspire the streets of the Netherlands right in the heart of the shopping centers of various cities such as Tilburg, Amsterdam, Rotterdam, The Hague, Eindhoven, Utrecht and more.
With this consumer campaign we aim to increase awareness among consumers that by choosing sustainable rice they can directly contribute to people, planet and progress.
We want to see your pictures!
If you see our campaign on billboards in the Netherlands, take a picture and upload it with the supporting hashtags #ChooseSustainableRice and #SRP to inspire others inside and outside the Netherlands to join our sustainable rice revolution and help feed the world sustainably.
Sustainable rice production & consumption is needed to feed the world sustainably.
While rice is a staple food for more than 3.5 billion people worldwide and over 140 million smallholder farmers depend on it for food or livelihoods, the crop is still often overlooked when it comes to shifting from conventional to sustainable farming practices. Conventional rice farming uses up to 5,000 liters of fresh water per kilogram of rice, and is responsible for around 10% of global man-made methane emissions. This makes rice both a contributor and a victim of climate change as it is highly vulnerable to the impacts of it. To bring change to the global rice sector SRP and its members are promoting sustainable rice production practices and consumption to shift towards a healthy, inclusive and sustainable future for people and planet.
The on-pack SRP-Verified Label, introduced in 2020, empowers consumers to help farmers and the planet directly by choosing SRP-Verified sustainable rice. In 2022, the label was selected as one of the 12 top sustainability labels by Milieucentrale. This resulted in further engagement with some of the largest retailers in the Netherlands, including Lidl, Albert Heijn, Jumbo, Superunie as well as rice brands and other major market actors such as LT Foods and Van Sillevoldt Rice/Euricom.
---
For more information on the campaign please reach out to:
Jop Blom
SRP International Engagement Manager
branding@sustainablerice.org / +31624600152
Campaign Organizers: The Sustainable Rice Platform and blowUP media
SRP and blowUP media have joined forces to showcase the best photos from rice fields and rice farmers globally and spread the message of how SRP, its members, partners and friends are transforming the rice sector.
The Sustainable Rice Platform e.V. (SRP): Feed the world. Sustainably.
SRP is a global multi‐stakeholder alliance comprising over 110 institutional members from public, private, research, civil society and financial sectors. SRP works with its members and partners towards transforming the global rice sector by improving smallholder livelihoods, reducing the social, environmental and climate footprint of rice production, and by offering the global rice market an assured supply of sustainably produced rice.
To learn more about SRP, visit www.sustainablerice.org.
blowUP media: Connecting audiences and inspiring change.
blowUP media is a leading provider of premium large-format outdoor advertising locations across Europe, dedicated to utilizing media as a force for good. Their mission is to inspire people, deliver impactful messages, and connect desirable urban audiences with aspirational brands, all while prioritizing sustainability. By combining their advertising expertise with responsible practices, blowUP media aims to create a positive impact on brands, urban societies, and the environment.
At the heart of blowUP media's operations lies a strong commitment to sustainability. They actively integrate eco-friendly practices into their operations, utilizing sustainable materials and technologies such as LED lighting and energy-efficient fixtures. By embracing responsible waste management and adopting circular economy principles, they strive to minimize their carbon footprint and contribute to a greener future.
Recognizing their responsibility to protect and contribute to the environment and urban areas, blowUP media takes proactive measures to minimize negative impacts and maximize positive contributions. Their ultimate goal is to achieve net zero carbon emissions by 2040, aligning with the targets set forth in the Paris Climate Agreement.
blowUP media places great value on the inclusion of non-governmental organizations (NGOs) and social messaging on their digital screens. They dedicate at least 20% of their air-time to showcase NGOs and promote social and environmental initiatives, amplifying the voices of organizations striving for a better world.
To learn more about blowUp media visit www.blowup-media.nl.