Back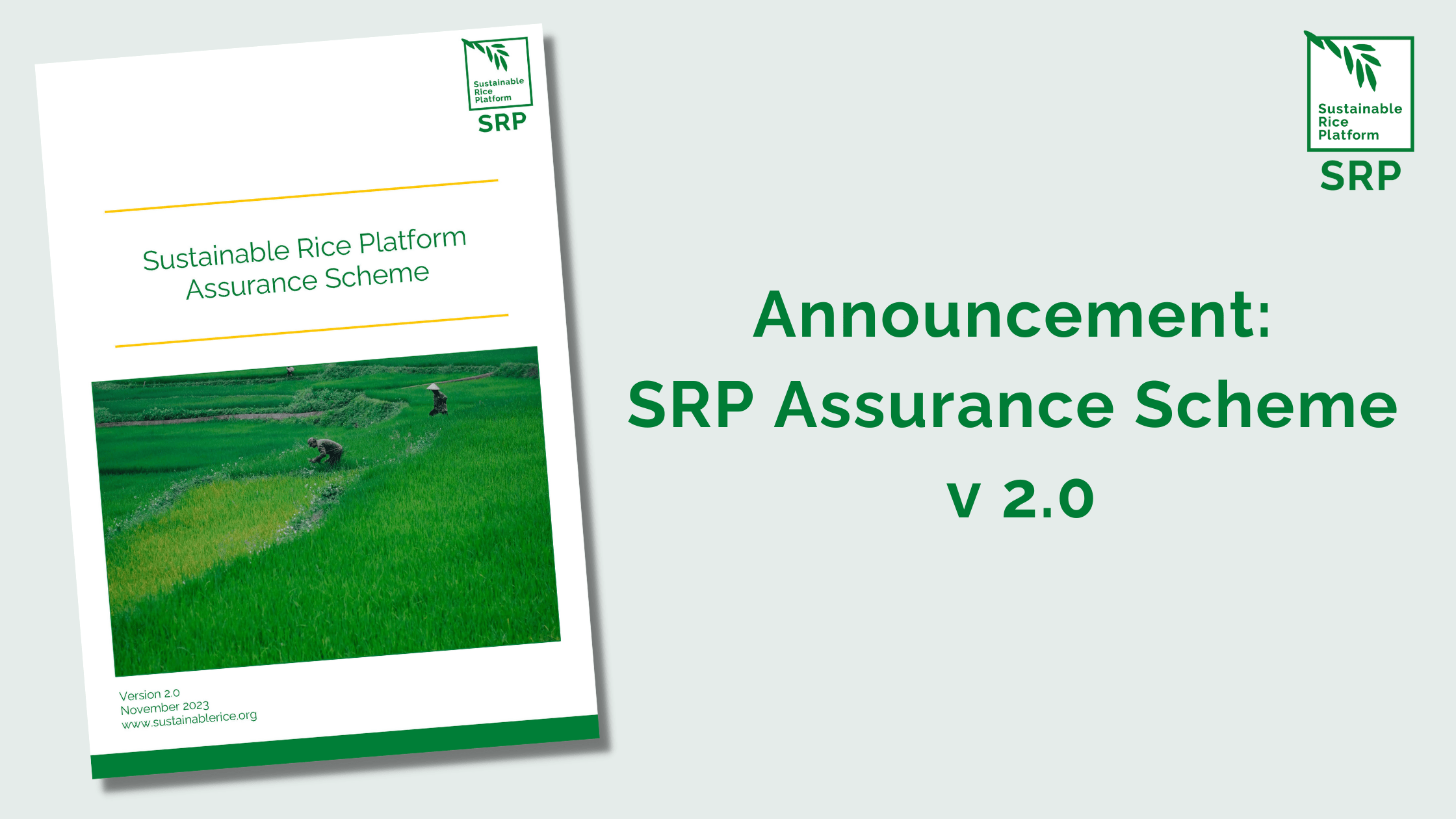 SRP Announces Assurance Scheme Version 2.0
Bangkok, 9 November 2023 — The Sustainable Rice Platform (SRP) is excited to announce the forthcoming launch of the Sustainable Rice Platform's Assurance Scheme Version 2.0, which will take effect on 1 January 2024. This is a significant milestone for SRP, reflecting our commitment to listening to our members and partners, and to continually improve and adapt our tools to the evolving needs of the global rice sector.
Version 2.0 of the SRP Assurance Scheme introduces important changes to our verification process, resulting in large measure from user feedback. These changes are designed to boost the efficiency, transparency, and cost-effectiveness of the scheme, and further enhance our alignment with global best practices.
Key highlights of the SRP Assurance Scheme 2.0 include:
Streamlined process: We have simplified the verification process to improve ease of access for producers, Conformity Assessment Bodies (CABs) and all value chain actors.
Robust data management: A comprehensive data management system ensures enhanced data integrity and monitoring.
New fee structure: The Assurance Scheme 2.0 includes adjustments to the fee structure, which is accessible on our webpage.
To address any questions you may have relating to the Assurance Scheme 2.0, please see our updated FAQs available at the SRP website for explanations of key changes and clarifications on various aspects of the new Scheme. If you have further questions or require more information, please do not hesitate to reach out to our dedicated support team at the SRP Secretariat.
To join the Assurance Program as a CAB, please download the CAB Application Form from the SRP website. To request SRP third-party assessment, the Step-by-Step Guide to Getting SRP-Verified is a must-read.
The official launch of the SRP Assurance Scheme 2.0 marks an exciting step forward in our mission to make rice production more sustainable. We believe these changes will have a lasting positive impact on rice value chains and look forward to your continued support and engagement.
Download the SRP Assurance Scheme v 2.0
Thank you for your commitment to sustainable rice production!
Please reach out to us with any questions or if you require further clarification at info@sustainablerice.org.
---
About the Sustainable Rice Platform
The Sustainable Rice Platform e.V. (SRP) is a global multi‐stakeholder alliance comprising over 100 institutional members from the public, private, research, civil society and the financial sector. SRP works with its members and partners towards transforming the global rice sector by improving smallholder livelihoods, reducing the social, environmental and climate footprint of rice production, and by offering the global rice market an assured supply of sustainably produced rice.
SRP promotes resource-use efficiency and climate change resilience in rice systems (both on-farm and throughout value chains) and pursues voluntary market transformation initiatives by developing sustainable production standards, indicators, incentive mechanisms, and outreach mechanisms to boost wide-scale adoption of climate-smart, sustainable best practices among small farmers.
Contact:
Roong Tepkaew, SRP Communications and Membership Manager
Email: roong.tepkaew@sustainablerice.org