Back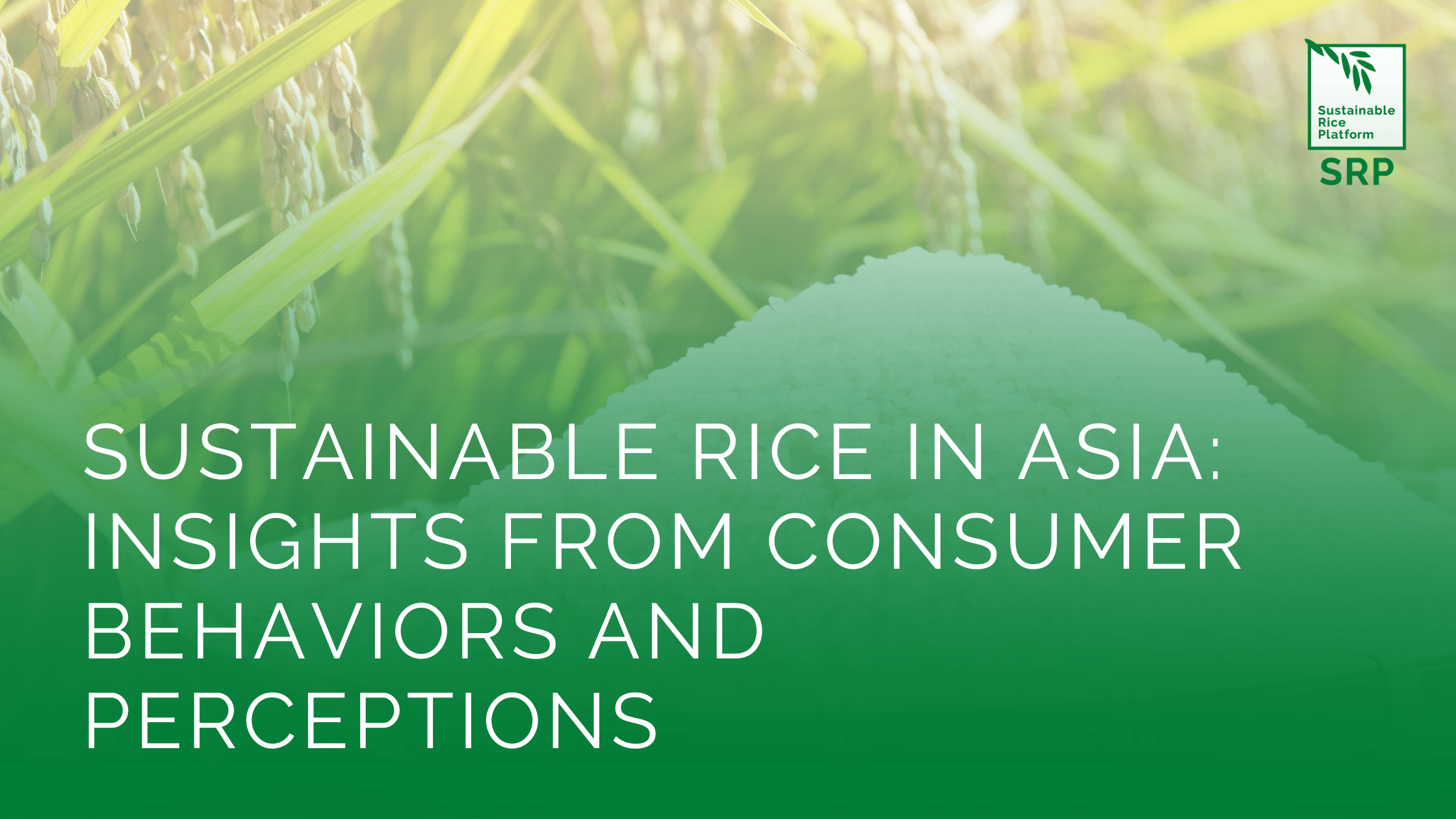 Sustainable Rice in Asia: Insights from Consumer Behaviors and Perceptions
SRP is thrilled to present the results of our consumer survey1], shedding light on the emerging trends in sustainable rice consumption across Asia. The objectives of the survey included gaining a deeper understanding of consumers' perceptions toward sustainable rice, their behaviors and journey related to rice products, the key factors influencing their rice purchases, and the profiling of sustainable rice consumers in targeted countries[2].
Survey Objectives
The survey had specific objectives in mind:
Understanding Perceptions: The aim was to gauge consumers' perceptions of sustainable rice and sustainably produced rice in terms of characteristics, attributes, premium positioning, and willingness to pay more.
Consumer Behaviors: The survey delved into consumers' behaviors and their journey related to rice products, with a particular focus on sustainable rice.
Key Purchasing Factors: The survey aimed to identify the key factors influencing the purchase of rice, including the type of messaging on packaging.
Consumer Profiling: The goal was to create a profile of sustainable rice consumers in targeted countries.

Awareness and Purchase Rates
Creating awareness about sustainable food systems is instrumental in promoting sustainable food consumption and production. Our survey results paint an optimistic picture, with an average of 81% of consumers reporting that they have purchased sustainable food products to some extent. Among the countries surveyed, Vietnam leads the pack with an impressive 88% purchase rate, while Thailand trails at 72%.
Vietnamese consumers not only lead in purchasing sustainable food but also exhibit the highest level of awareness when it comes to sustainable rice. A remarkable 71% of Vietnamese consumers feel well-informed on this topic, surpassing the average awareness level of 61%. In contrast, consumers in Pakistan (54%) and Thailand (57%) show the lowest levels of awareness, which corresponds with Thailand's lower-than-average purchase rates of sustainable produce.

Consumer Behavior and Price Sensitivity to Sustainable Rice
While, on average, 61% of consumers are aware of sustainable rice, only 53% have actually purchased it, indicating an 8% gap between awareness and the desire to purchase. This awareness versus purchasing gap is most pronounced in Thailand, with an 11% differential, and least in Pakistan, with a 6% gap.
Vietnamese consumers, in alignment with their higher-than-average awareness, are most likely to have purchased sustainable rice (64%). Conversely, Thais (46%) and Pakistanis (48%) exhibit lower purchase rates, which could be attributed to their comparatively lower levels of awareness, as previously mentioned.

Willingness to Pay More for Sustainable Rice
Our survey results indicate a positive correlation between awareness of sustainable rice and higher purchase rates, as well as a willingness to pay more for it. This likely stems from a deeper appreciation of the environmental and social benefits of sustainable food production. Vietnam's consumers, the most aware of and likely to have purchased sustainable rice, exemplify this trend. Only 6% of Vietnamese consumers express unwillingness to pay more for sustainable rice, the lowest percentage among the surveyed countries and below the average of 13%.
In contrast, consumers in Pakistan display greater price sensitivity, with almost a quarter (23%) expressing unwillingness to pay more for this staple.

Conclusion
The results of our survey shed light on the evolving landscape of sustainable rice consumption in Asia. As awareness grows and consumers increasingly recognize the benefits of sustainable rice, there is a clear opportunity for businesses and policymakers to align their efforts with this growing trend. Sustainable rice is not just a buzzword; it represents a shift towards a more conscious and responsible approach to food consumption in the region.
These findings provide valuable insights for stakeholders across the rice industry, offering a roadmap to better cater to the preferences and needs of consumers. As we move forward, it's essential to continue fostering awareness and promoting the adoption of sustainable rice production methods. By doing so, we can contribute to a more sustainable and equitable food system for all.
The full summary of the consumer survey can be accessed here. For all released country summaries, click here.
SRP members can access the complete survey results through the member area on the SRP website.
---
[1] The survey was commissioned by GIZ and conducted by YouGov in March 2022. Funded through the develoPPP programme which Deutsche Gesellschaft für Internationale Zusammenarbeit (GIZ) GmbH implements on behalf of the German Federal Ministry for Economic Cooperation and Development (BMZ) and in collaboration with private companies. The support is provided through the Mainstreaming Sustainable Rice project, which aims to scale sustainable rice production and demand globally.
[2] The study targeted respondents who regularly consume rice and are responsible for household food purchases in India, Indonesia, Pakistan, Thailand, and Vietnam.