Back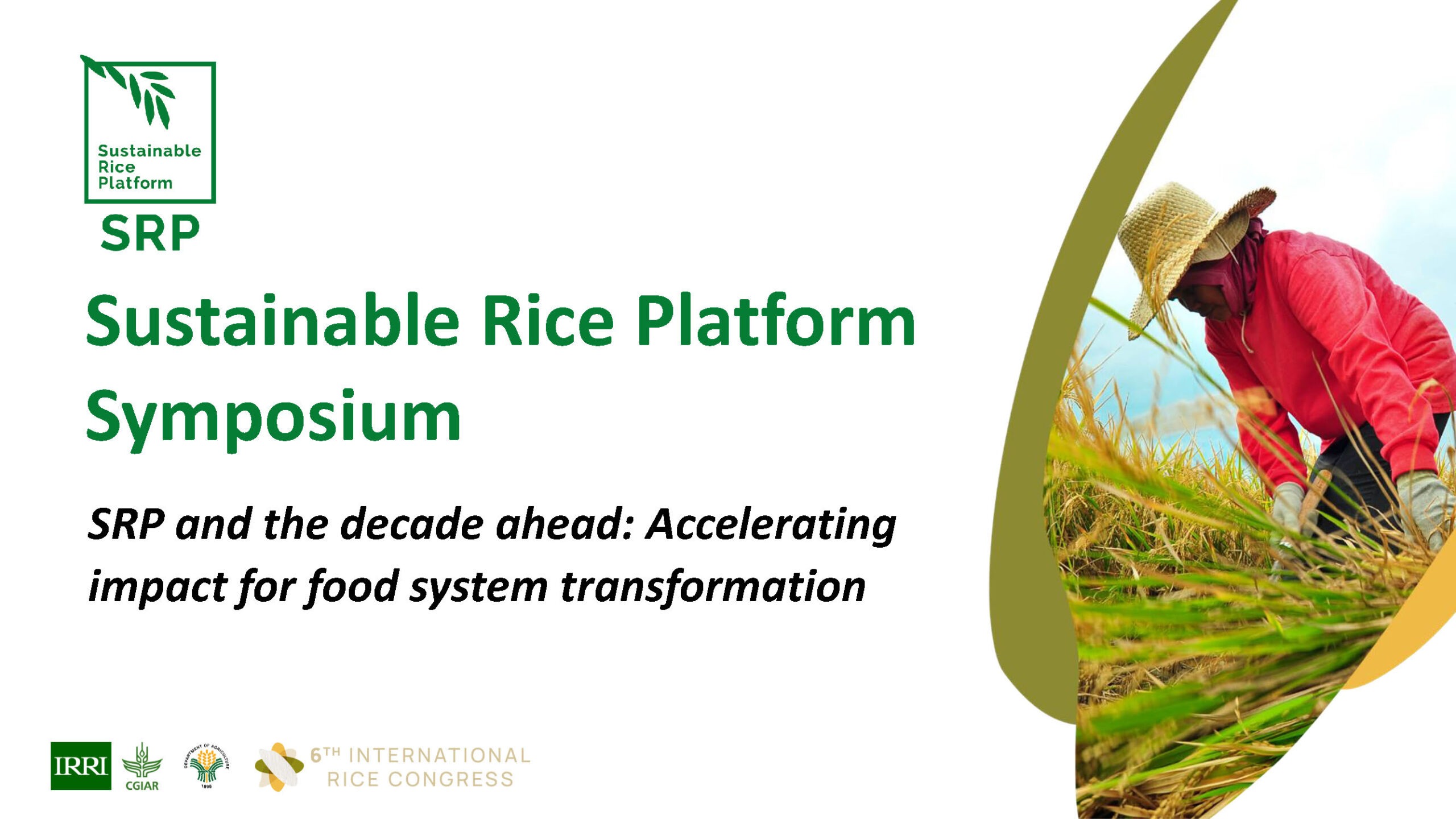 SRP Symposium at IRC 2023: Driving Transformation Through Sustainable Rice Practices
Bangkok, 26 October 2023 — The Sustainable Rice Platform (SRP) successfully held its highly anticipated SRP Symposium at the International Rice Congress (IRC) 2023. The event, organized by SRP and generously supported by the Asian Development Bank (ADB), took place on 17 October 2023 at the Philippine International Convention Center (PICC), Manila, Philippines. The symposium brought together stakeholders, experts, and innovators to share and explore the latest developments in sustainable rice farming and discuss collaborative initiatives and opportunities to promote sustainable rice practices and support smallholders.
The day commenced with a welcome from SRP Executive Director Wyn Ellis, setting the stage for SRP Board Chair Keith Jones to deliver his keynote address 'SRP: 12 years of progress' His observations provided an insightful overview of SRP's journey and accomplishments, as well as the challenges ahead.
In Session one, representatives of SRP members Helvetas Swiss Intercooperation, Galaxy Rice, Pakistan Basmati Heritage Foundation (PBHF), and GIZ presented case studies offering valuable insights into their experiences in implementing through projects initiated by SRP members around the world.
Session one also highlighted the SRP Assurance Scheme and the growing market for SRP-Verified rice, with speakers highlighting the current market situation in EU and emerging opportunities in Asian markets.
The second session began with a keynote 'Redefining Value in Value Chains' by Matthew Reddy, Senior Private Sector Specialist at the Global Environment Facility. Stressing the importance of collaboration and information flow within value chains, he set the tone for a high-level panel discussion featuring senior experts from International Finance Corporation, Rikolto, SNV, Khon Kaen University, World Business Council for Sustainable Development, and FAO. These discussions revolved around scaling impact within rice, food systems, and climate change, with a spotlight on initiatives driving scale in Africa and Asia.
The private sector's role in driving transformation was highlighted through projects such as the Private Sector-led Sustainable Rice Value Chain Transformation in the Mekong Delta. The panel discussion also featured insightful discussions on financing sustainable rice practices, emphasizing the steps necessary to make sustainability financially viable.
Takashi Yamano, Principal Economist at Economic Research and Development Impact at ADB and Noriko Sato, ADB Senior Natural Resources Specialist shared their perspective on 'Economic Incentives for Adopting SRP in Asia: A Case of Bilateral Crediting Mechanism.' The presentation highlighted the significance of agriculture sector emissions in Asia, with flooded rice as a major contributor to national emissions of methane. To mitigate emissions from rice farming through adoption of climate-smart best practices such as Alternate Wetting & Drying, additional economic incentives and further research are needed to drive wide-scale adoption.
Session 3 included a panel discussion on the topic: 'What's New on the Horizon – Digital Tools and Carbon Finance'. Discussants explored the role of carbon finance in incentivizing sustainable practices. Innovative opportunities in rice were examined, with a special focus on Pakistan and Bangladesh. The event also underlined the importance of technologies such as AWD (Alternate Wetting and Drying), digital tools, smart farming practices, and plant nutrition as drivers of transformation.
The Symposium challenged participants to think critically and collaborate in their efforts to drive positive change in the rice sector.
SRP congratulates the International Rice Research Institute for hosting a highly successful 4-day event. We also extend our heartfelt thanks to IRRI and all speakers, partners, and delegates who played a vital role in making this symposium a success.
Our work is an ongoing effort and doesn't end here. We encourage participants, members and partners to join us as we work together towards our shared goal of a sustainable global rice sector.
Speaker presentations are available here.
---
About the Sustainable Rice Platform
The Sustainable Rice Platform e.V. (SRP) is a global multi‐stakeholder alliance comprising over 100 institutional members from the public, private, research, civil society and the financial sector. SRP works with its members and partners towards transforming the global rice sector by improving smallholder livelihoods, reducing the social, environmental and climate footprint of rice production, and by offering the global rice market an assured supply of sustainably produced rice.
SRP promotes resource-use efficiency and climate change resilience in rice systems (both on-farm and throughout value chains) and pursues voluntary market transformation initiatives by developing sustainable production standards, indicators, incentive mechanisms, and outreach mechanisms to boost wide-scale adoption of climate-smart, sustainable best practices among small farmers.
Contact:
Roong Tepkaew, SRP Communications and Membership Manager
Email: roong.tepkaew@sustainablerice.org