Back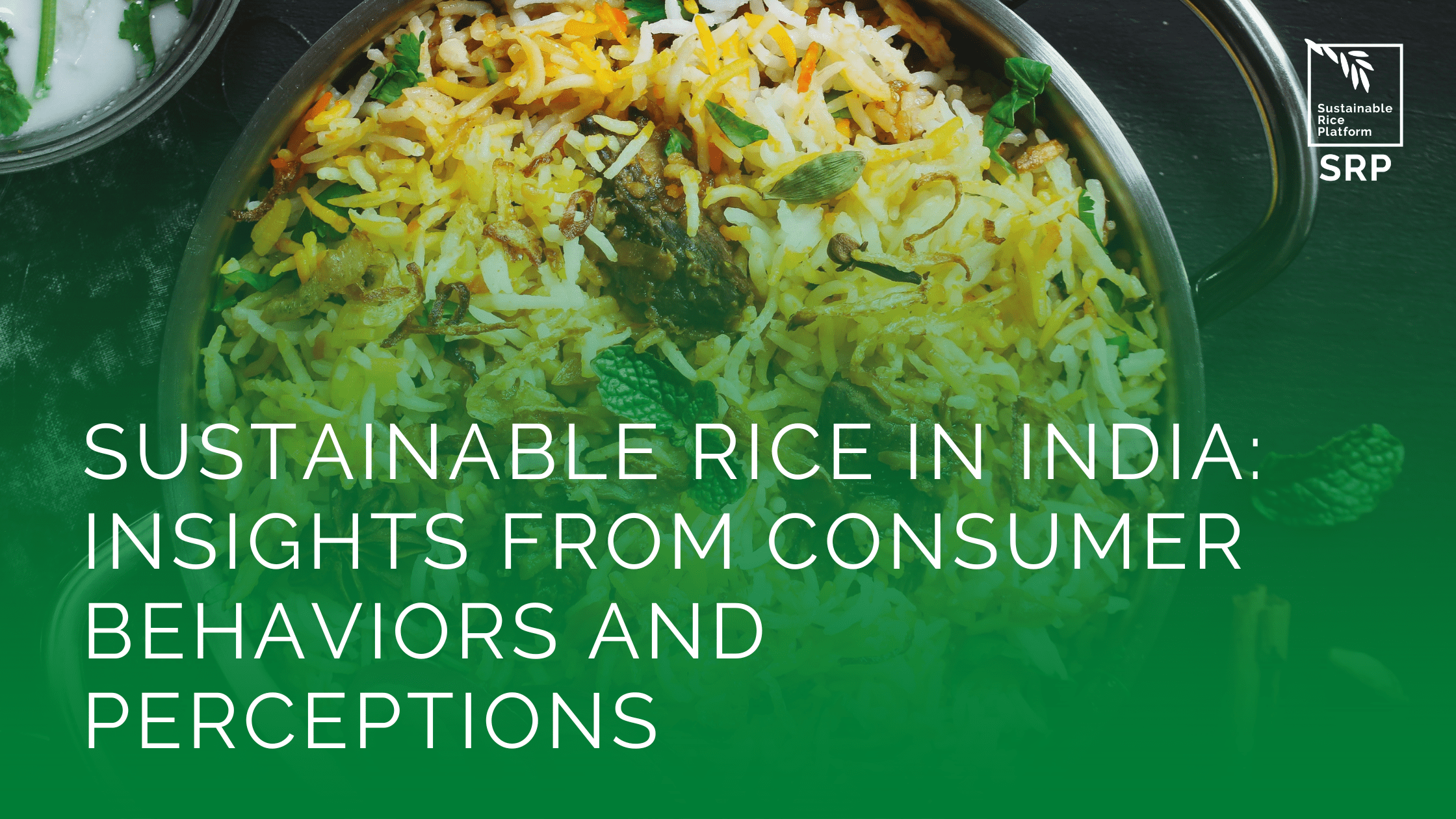 Sustainable Rice in India: Insights from Consumer Behaviors and Perceptions
Last week, SRP presented the results of an extensive consumer survey[1] that provides valuable insights into emerging trends in sustainable rice consumption across Asia. The comprehensive survey reached across multiple countries, gathering data from rice consumers in India, Indonesia, Pakistan, Thailand, and Vietnam. In this article, we will delve into the key findings from the Indian segment of the survey, shedding light on the preferences and perceptions of Indian rice consumers when it comes to sustainable rice.
---
Rice Enjoyment in India
Rice holds a sacred place in the hearts and kitchens of India. It is more than just a staple; it's an integral part of daily life. The survey's findings underline this, with all respondents enjoying it frequently as part of their diet, consuming it five or more times a week. Among the myriad rice varieties available, three stand out as the most preferred. Notably, white rice takes the crown, being the top choice for 76% of respondents. The consumption of white rice is most pronounced in South India. On the other hand, Basmati rice is consumed most by residents of the Northern and Central regions.

Awareness of Sustainable Food and Rice
In India, 82% of consumers have bought sustainable food, primarily motivated by health concerns, particularly among those over 40, followed by factors like quality, taste, and environmental impact. However, awareness of sustainable rice is lower, with West India having the least awareness and the East and Northeast regions exhibiting the highest awareness. The promotion of awareness is significantly influenced by social media, word-of-mouth, print media, and television.

Perceived Characteristics of Sustainable Rice
Among those who are aware of sustainable rice, many recognize its positive environmental impact and health benefits. Consumers identify the primary characteristics of sustainable rice as minimized use of chemical inputs, health benefits, and improved soil health. However, there is limited awareness of the positive social impacts of sustainable rice, such as higher income for producers and enhanced gender equality. Additionally, consumers lack awareness of the impact of sustainable rice farming practices on lowering greenhouse gas emissions.

Purchasing Rates and Preferences of Sustainable Rice
Approximately 53% of Indian consumers have purchased sustainable rice. On average, consumers spend 207 INR (2.31 EUR) on rice per purchase. Supermarkets emerge as the most common point of sale, closely followed by local markets. Interestingly, 32% of consumers purchase rice online, a significantly higher proportion than in other countries surveyed. This trend is particularly prominent among consumers aged 30-39 and those living in North and Central regions.

Willingness to Pay for Sustainable Rice
An impressive 88% of Indians express their willingness to pay more for sustainable rice. On average, 55% are content with paying 5% more, and 24% are willing to pay 10% more, with males showing a higher propensity to absorb this cost compared to females. Only 9% are keen to spend 20% more, with this willingness split broadly equally by gender, and those over 40 being less inclined to do so.

Conclusion
The insights gleaned from this survey unveil the preferences and perceptions of Indian consumers regarding rice, especially in the context of sustainable rice. The data indicates that a significant majority of Indians are open to paying more for sustainable rice, offering a promising market for sustainable rice producers and stakeholders. Educating consumers about the benefits of sustainable rice, particularly its role in reducing greenhouse gas emissions, could further boost awareness and consumption. As climate change looms as a significant challenge to agricultural output, sustainable rice practices could play a vital role in India's future.
The full summaries of the consumer survey can be accessed here:

SRP members can access the complete survey results through the member area on the SRP website.
---
[1] The survey was commissioned by GIZ and conducted by YouGov in March 2022. Funded through the develoPPP programme which Deutsche Gesellschaft für Internationale Zusammenarbeit (GIZ) GmbH implements on behalf of the German Federal Ministry for Economic Cooperation and Development (BMZ) and in collaboration with private companies. The support was provided through the Mainstreaming Sustainable Rice project, which aims to scale sustainable rice production and demand globally. The study targeted respondents who regularly consume rice and are responsible for household food purchases in India, Indonesia, Pakistan, Thailand, and Vietnam.