Back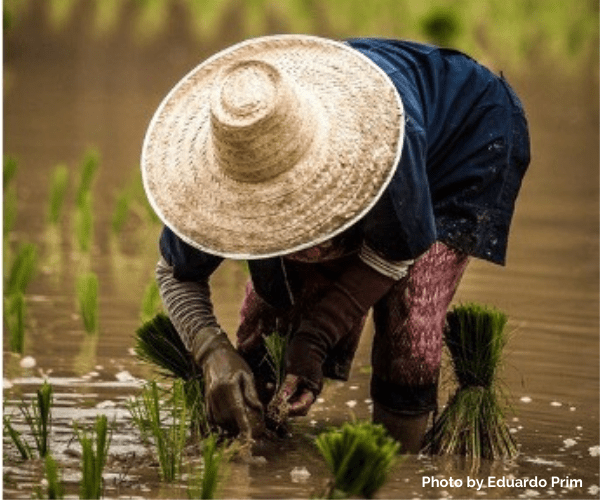 Transacting sustainable rice on the RiceX platform
The Rice Exchange digital platform increases trust, reduces risk and delivers cost savings to the rice industry. Sustainability is at the heart of our ethos. Rice is integral to food security as half the world's population depends on rice as a primary source of calories and the grain is the largest import item in the food baskets of many nations. Unfortunately supply chain inefficiencies are mostly paid for by consumers.
Rice Exchange, and its partners in the shipping, insurance and inspection sectors, removes frictions thereby benefitting the whole supply chain and the end consumer. Our smart-contract solution eliminates paperwork and expensive courier services. The transparency provided by the platform's immutable blockchain audit log allows buyers and sellers to build relationships of trust. Today buyers no longer need to fly across the world to meet suppliers in person as they enjoy full visibility on cargo preparation via daily inspection reports from the independent inspection companies integrated with the platform: Control Union, Cotecna, ISC and Intertek.
Environmental sustainability is key to the rice industry. Within the agricultural sector, rice cultivation is the second largest contributor of greenhouse gas emissions after cattle farming. Rice farming produces 10% of all global man-made methane emissions. Methane, which according to the Intergovernmental Panel on Climate Change is 25 times more potent than carbon dioxide in its global warming potential, is emitted from flooded rice fields as organic matter decays. Burning of rice straw also results in harmful emissions.
We are excited to work with the Sustainable Rice Platform (SRP) to advance adoption of sustainable practices by rice smallholders. SRP, convened in 2011 by the UN Environment Programme and the International Rice Research Institute, together with public and private sector partners and civil society groups, has created the world's first voluntary standard for sustainably produced rice — the SRP Standard for Sustainable Rice Cultivation v2.1 (available here). According to Wyn Ellis, Executive Director of SRP, rice farmers following the SRP Standard can reduce emissions by between 25% and 50% and reduce their water consumption by up to 25%. Adopting the SRP Standard can boost smallholder income by between 10% and 20% through higher yields and savings in input costs.
Buyers on the Rice Exchange platform can connect with SRP suppliers who have been verified by an approved verification body, including Control Union, Preferred by Nature and Agrocolor. Stephan Moreels, General Man- ager at Control Union Cambodia, explains that after every onsite visit a Verification Statement is issued, and results are recorded with Global G.A.P and SRP. Similarly, upon request from the buyer, and with the consent of the supplier, this Verification Statement can be uploaded on the Rice Exchange platform once the contract is agreed.
This gives the buyer certainty that the contracted rice is SRP-Verified. In turn it allows sustainable rice producers to charge a premium for rice. Studies show that consumers are willing to pay premiums between 9% and 33% for sustainably-produced rice. As over one billion people depend on rice farming the impact of higher prices has the potential to lift the incomes of many families.
Inefficient processing, transportation and storage of rice can greatly increase loss and spoilage. Rice makes up over half of wasted cereals in Japan, China and South Korea, and 72% of lost or discarded cereals in South and Southeast Asia — a total of 149.7 million tonnes, according to the UN. That wasted rice emits greenhouse gas emissions equivalent to 610.5 million tonnes of carbon dioxide a year.
Rice Exchange has developed a moisture prevention programme to minimise wet damage to rice during seaborne transportation. The programme, which consists of lining containers with Kraft paper and adding dry bags, dramatically reduces wet damage during transportation. To access insurance cover from the best European insurance underwriters on the Rice Exchange platform buyers must implement the moisture prevention programme which is overseen by the inspection companies.
The platform's tender function makes it easier and quicker to manage rice procurement and increase purchases in times of poor harvest or natural disasters.
To be part of the sustainable rice community register at www.ricex.io.
Source: Rice Exchange