Back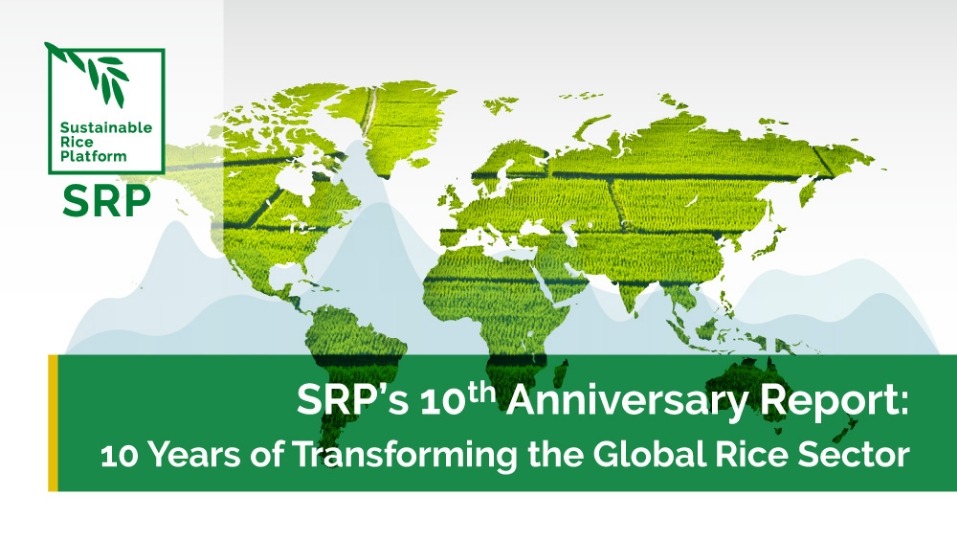 SRP's 10th Anniversary Report: 10 Years of Transforming the Global Rice Sector 
Now, more than ever, sustainable rice cultivation is critically important. As one of the world's staple food groups, rice is among the most vulnerable to the impacts of climate change. Hence, the Sustainable Rice Platform (SRP) has dedicated itself over the past decade to promoting climate-smart agricultural practices among small rice farmers and other stakeholders of the rice value chain.
Our 10th Anniversary Report commemorates SRP's first decade of advocacy, as well as our continuing progress in helping producers switch to sustainable rice farming practices. Since our establishment in 2011, we have evolved into a global multi-stakeholder alliance with over 100 institutional members, and over 400,000 farmers participating in 22 active Registered SRP Projects around the globe today.
The report showcases some of our most significant developments, including the launch of our SRP Standard for Sustainable Rice Cultivation, the world's first sustainability standard in rice, together with our SRP Performance Indicators – currently the only recognized working definition and set of metrics for sustainable rice production.
We also highlight the SRP Assurance Scheme, which evaluates and provides evidence of compliance with the SRP Standard, and governs the appropriate use of SRP trademarks in packaging and other materials. In addition, our report outlines the establishment of the SRP Training Programme, which offers guidance, training, and technical assistance to farmers, implementation partners and extension service providers. This Training Programme supports the upscaling of the adoption of environmentally and socially sustainable rice production technologies using SRP tools.
In celebration of our strong and diverse membership base, the report features many of our members' and partners' accomplishments towards enabling resource-efficient farming practices around the world. It also highlights the success stories of individual farmers at our Registered SRP Projects, showing how shifting to sustainable rice has changed their lives.
Yet the SRP 10th Anniversary Report does more than just look back at our achievements. It also looks ahead, further clarifying our vision for the future. We envision the number of farmers adopting the SRP Standard worldwide to reach 1 million by 2023, and 10 million by 2030.
Naturally, the last 10 years would not have been possible without our members, partners, farmers participating in Registered SRP Projects and all the other stakeholders that form our global network. With the official publication of our 10th Anniversary Report, all of us at SRP would like to thank everyone who has been – and will continue to be – a part of our journey to feed the world. Sustainably.
Download the full SRP 10th Anniversary Report here.
Download
the full SRP 10th Anniversary Report here:
Download